Past and present Italian stars at GP Costa degli Etruschi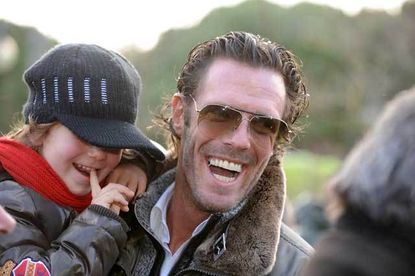 2009 GP Costa degli Etruschi photo gallery by Andy Jones>>
Italian cycling stars past and present turned up at the weekend's GP Costa degli Etruschi to watch Alessandro Petacchi snatch the win on Saturday (February 7).
Former world champion and sprint ace Mario Cipollini was in the crowd with his family watching the action. After a stalled comeback for the controversial US-based Rock Racing team at last year's Tour of California, Cipo has hung up his racing wheels and is now a consultant for the new Italian ISD racing squad.
Another former world and 2004 Olympic champion Paolo Bettini was there, the diminutive Italian is always a favourite with the crowds wherever he goes.
A more controversial figure taking part in the race was Ivan Basso. Basso made his 2009 debut for Liquigas at the Tour de San Luis in Argentina in January, where he placed fifth overall, after serving a two-year suspension for doping. Basso will now travel to the US to take part in the Tour of California (starting on February 14) where he will be racing against former Tour de France nemesis Lance Armstrong.
Also on the start line was current world champion Alessandro Ballan, who finished the race in 23rd place.
Cycling Weekly's GP degli Etruschi race report is in the News section
Mario Cipollini: happy to be a spectator
Former double world champ Paolo Bettini
Ivan Basso: next stop, Tour of California
World champ Alessandro Ballan rolls out. He's obviously not read the Italian world champion's rule book about having matching stripey gloves and overshoes
RELATED LINKS
2009 GP Costa degli Etruschi photo gallery by Andy Jones>>
Petacchi wins GP degli Etruschi sprint
Thank you for reading 20 articles this month* Join now for unlimited access
Enjoy your first month for just £1 / $1 / €1
*Read 5 free articles per month without a subscription
Join now for unlimited access
Try first month for just £1 / $1 / €1