PAST MASTERS FOR REVOLUTION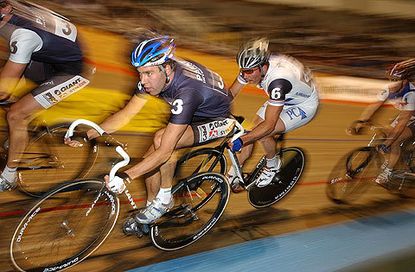 Former pro riders Andrea Tafi, Franco Ballerini, Silvo Martinello and Rolf Sorensen line up alongside Max Sciandri for the first of this winter?s Revolution track meetings in Manchester on October 14.
Between them, the quintet have 74 years of pro riding experience under their belts, and have won 14 Classics.
On the night they will ride a special pursuit race, and some of them may ride the main races with British track riders including Rob Hayles, Tony Gibb and Chris Newton.
The second big attraction of the evening will be the sprint races, for which full line-ups will be unveiled soon - Italian star Roberto Chiappa has already been confirmed as attending.
This is the fourth season of the ever-popular Revolution track events, having been created in 2003 by promoters The Face Partnership and the Manchester Velodrome.
Tickets cost £10 for adults, £5 for children and OAPs, and £22 for a family. Call 07005 942576, 0161 223 2244, or go to www.cyclingrevolution.com.
Thank you for reading 20 articles this month* Join now for unlimited access
Enjoy your first month for just £1 / $1 / €1
*Read 5 free articles per month without a subscription
Join now for unlimited access
Try first month for just £1 / $1 / €1