PENDLETON PULLS OUT OF 500M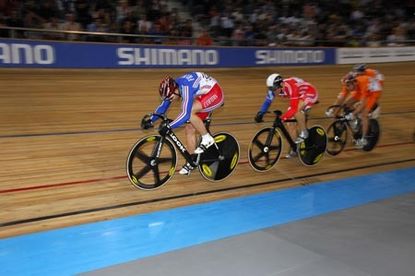 Britain?s team pursuit quartet look to kick-start the World Cup campaign in Sydney tonight.
But Victoria Pendleton, knocked out of the sprint at the quarter-final stage, has been withdrawn from the 500 metre time trial.
Performance director David Brailsford explained: ?She?s got a bit of a cold and a sore throat. The 500 metres isn?t an Olympic event so qualification isn?t on the line, so we?ll keep her back for next week?s World Cup in Beijing.?
It means Anna Blyth will be the only Brit in the time trial. As the men?s equivalent, the kilometre, is not an Olympic event either, there will be no British representation.
The order in the team pursuit will be Ed Clancy, Chris Newton, Bradley Wiggins and Steve Cummings taking the anchor position.
Mark Cavendish will test his legs ahead of the Madison by riding the scratch race.
DAY TWO PROGRAMME ? SATURDAY
British entrants confirmed. Asterisk denotes an Olympic discipline
Times: Session one 1pm to 6pm local time (2am to 7am British time), session two 7pm to 10.30pm (8am to 11.30am)
Women?s 500m TT Anna Blyth (Great Britain)
Men?s team pursuit * Great Britain (Ed Clancy, Chris Newton, Bradley Wiggins, Steve Cummings)
Women?s points race * Kate Cullen (Braveheartcyclingfund.com)
Men?s Keirin * Chris Hoy (Great Britain), Ross Edgar (SIS)
Men?s 1km ?
Women?s team sprint ?
Men?s scratch race Mark Cavendish (Great Britain), Jonny Bellis (100% ME)
PICTURE Tonight sees the Keirin riders hit the track
CW'S TRACK WORLD CUP COVERAGE
Pendleton bounces back to win Keirin gold
Sydney World Cup night 2: Hoy and Edgar complete 1-2
British quartet make Brown eat his words
Brown teases British team pursuiters before Sydney showdown
Pendleton pulls out of 500m
Sydney World Cup night 1: no medals yet
The Big Preview: Tonight at the Dunc Gray track
CW's Dummies' Guide to track cycling
Thank you for reading 20 articles this month* Join now for unlimited access
Enjoy your first month for just £1 / $1 / €1
*Read 5 free articles per month without a subscription
Join now for unlimited access
Try first month for just £1 / $1 / €1