Petacchi: I've been working out how to beat Cav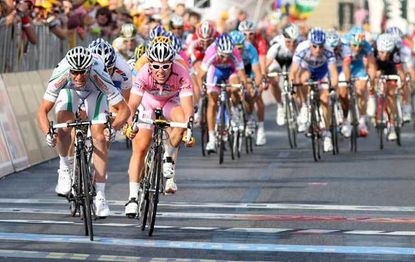 Alessandro Petacchi (LPR Brakes) has revealed that he has been working hard to find a way to beat British sprint rival Mark Cavendish (Columbia-Highroad).
Petacchi out-foxed and out-gunned Cavendish in the finale of Sunday's stage two of the Giro d'Italia to take the win. The Italian clung on to Cavendish's wheel as the Manxman's Columbia team-mates wound up the pace to lead him out, and then jumped around the side to seal the win.
"I?ve been trying to work out how to beat Cavendish for two days," said Petacchi. "I studied photographs of him winning in Qatar and tried to work out how he does it. I?d never beaten him in such a big head to head sprint like this.
"I decided to surprise from a long way out and it worked. I went at 250 metres to go. I could have been passed before the line but I held him off. I surprised him and got up to speed before he did. He didn't get past because I did a good, long sprint."
"I?m really happy to do today because it?s my son's first birthday," revealed Petacchi. "I think it?s a pretty good birthday present. It was a good day for the team. They all worked really well and we took home a big win.?
"I've had to look after myself in sprints sometimes and I did it again today. I haven't got a strong lead out train because we lost Bernucci and Ongarato due to injury. They looked after me on the climb but then I told them I'd look after myself. I got on Mark's wheel and followed him until I jumped away.
"I didn't do the Giro last year and it's not nice to watch it on television. This is one of the best sprint wins of my career."
Petacchi last won a stage of the Giro in 2007, but these results were stripped from his palmares when he tested positive for excessive levels of banned substance Salbutamol during the race. Petacchi has always maintained his innocence, and blamed his use of an asthma inhaler for which he has an exemption certificate. His last valid stage win in the Giro was back in 2005.
Full report for Giro d'Italia stage two>>
Swipe to scroll horizontally
Stage reports
Stage two: Petacchi denies Cavendish the stage win
Stage one: Cavendish in pink as Columbia prove their point to Garmin
Photo galleries
News
I'm wearing pink on behalf of the team, says Cavendish
Wiggins ready to win Giro team time trial
Friday, May 8: Giro news round-up
Cavendish out to topple Garmin in Giro team time trial
Team time trial start times
Cycling Weekly's Giro d'Italia top ten prediction
Brits in Venice for Giro presentation
Armstrong overshadows overall favourites at Giro presentation
Armstrong confident of finding new sponsor for Astana
Armstrong working to save Astana team
Wiggins in top form for Giro
Garmin Slipstream kitted out for Giro opener
Dan Lloyd gets late Giro call-up
Armstrong's special Giro bikes unveiled
Daniel Lloyd overlooked for Giro ride
Cummings and Thomas not selected for Giro d'Italia
Cavendish tests Giro form at Tour of Romandie
David Millar confirms he's riding in 2009 Giro
Bennati to take on Cavendish in Giro 2009 sprints
2009 Giro d'Italia to start in Venice
Evans and Silence-Lotto disagree on Giro 2009 ride
Armstrong to ride 2009 Giro
Tuttosport reveals 2009 Giro d'Italia route
Dolce & Gabbana design new Giro jersey
2009 Giro d'Italia guide and features
Find the pink jersey competition
Giro d'Italia 2009: The Big Preview
CW's Giro top ten prediction
Brits in the Giro 2009
Brits in the Tours: From Robinson to Cavendish
CW Classic: the 1987 Giro d'Italia
2008 Giro d'Italia archive
Giro d'Italia 2008 coverage index - race reports, photos, results
From rule Britannia to cruel Britannia
Giro 2008: The final word on this year's race
Brits at the 2008 Giro: photo special
Five days to go, what's in store?
Giro d'Italia 2008: Rest day review (May 27)
Giro d'Italia 2008: Rest day review (May 19)
Giro d'Italia 2008 preview
Follow Cycling Weekly on Twitter>>
Thank you for reading 20 articles this month* Join now for unlimited access
Enjoy your first month for just £1 / $1 / €1
*Read 5 free articles per month without a subscription
Join now for unlimited access
Try first month for just £1 / $1 / €1