Petacchi starts Vuelta despite ongoing doping investigation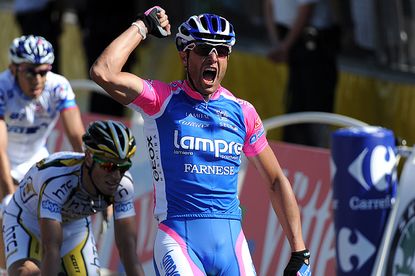 Italian Alessandro Petacchi starts the Vuelta a España tomorrow in Sevilla, Spain, despite the possibility he will bring dark clouds over the race. Depending on the outcome of a doping investigation in Rome, Italy, he may face a lifetime doping suspension.
Tomorrow night at 22:44, Petacchi will depart with his Lampre-Farnese team in the Vuelta a España's team time trial. The stage will kick off the three-week Vuelta a España, which may be cut short for Petacchi depending on what the Italian Olympic Committee (CONI) decides next Monday or Tuesday.
If CONI recommends a suspension, team Lampre said that it "will take the necessary disciplinary actions," which means it will pull Petacchi from the Vuelta and suspend him as it has done with Lorenzo Bernucci.
Police searched Petacchi's home and two other locations owned by his wife in April. They did not find anything in their raids, but in a simultaneous raid at team-mate Lorenzo Bernucci's home they found banned pharmaceuticals.
The raids were based on the investigation of Padova prosecutor, Benedetto Roberti. Roberti claims that Petacchi used synthetic blood Perfluorocarbon (PFC) and human serum albumin in 2009. Both Petacchi and Bernucci exercised their right to silence in an Italy's Anti-Narcotics Group hearing on July 28, only three days after Petacchi beat Mark Cavendish in Paris for the Tour de France's green jersey.
The CONI heard Petacchi and Bernucci Tuesday in Rome. According to La Gazzetta dello Sport, Bernucci accepted "full responsibility" during his hearing. Following Bernucci, Petacchi met with prosecutor Tammaro Maiello for 2.5 hours.
"I clarified my position," Petacchi said. "I responded to all of the questions."
The CONI's questioning continued Wednesday when it heard Lampre's Sports Director Fabrizio Bontempi and masseur Paolo Chiesa, and Thursday with Lampre's doctor, Carlo Guardascione. Petacchi may face a four-year to lifetime suspension because these charges, if verified, will count for his second doping offence.
At the 2007 Giro d'Italia, Petacchi tested positive for excessive levels of asthma medication, Salbutamol.
Related links
Vuelta a Espana 2010: Cycling Weekly's coverage index
Thank you for reading 20 articles this month* Join now for unlimited access
Enjoy your first month for just £1 / $1 / €1
*Read 5 free articles per month without a subscription
Join now for unlimited access
Try first month for just £1 / $1 / €1