Peugeot looking for vintage bikes for Cycle Show 2010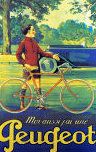 Bike maker Peugeot is exhibiting at the 2010 Cycle Show at London's Earls Court October 8th - 10th and want to show off some nice veteran models to make a point about their heritage.
As Peugeot is known for their showstopping concept bikes, it will probably be to make a stark contrast against something new, as well. The first veteran Peugeot bikes that jumped into our minds were the black-and-white checkerboard racing machines ridden by Tom Simpson, Bernard Thevenet and, more recently, Robert Millar in the pro peleton of the 1980s.
But there are fine old roadsters still seen around and Peugeot would be just as happy to display them, too.
Peugeot need three or four bikes for their exhibit and they obviously need to be in fine condition. If you think you may be able to help, you can email us on cycling@ipcmedia.com and we'll put you in touch.
Cycling Weekly will be exhibiting at the Cycle Show and we look forward to seeing you.
One from the Cycling Weekly archive: Tom Simpson on a classic Peugeot
Thank you for reading 20 articles this month* Join now for unlimited access
Enjoy your first month for just £1 / $1 / €1
*Read 5 free articles per month without a subscription
Join now for unlimited access
Try first month for just £1 / $1 / €1