PLOWMAN CRAVEN WANT TO LEVEL THE SCORES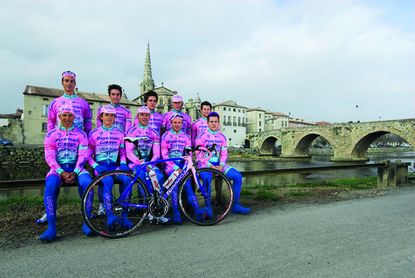 Get The Leadout Newsletter
The latest race content, interviews, features, reviews and expert buying guides, direct to your inbox!
Thank you for signing up to The Pick. You will receive a verification email shortly.
There was a problem. Please refresh the page and try again.
For all their attacking and aggression at the Girvan, Plowman Craven ended the weekend with only Simon Richardson's third place to show for their efforts.
Team manager Garry Beckett is determined to put that right at the Tour of the Reservoir, the third round of the Premier Calendar, in Northumbria on Sunday.
"Our backs are up now," he said. "And we'll give it our best. We've tried to take the racing to them [Rapha and Pinarello] in the last two races but we've not got the results we've deserved, in my opinion.
"We'll take the race to the others again and we think the odds level up a bit in a one-day race, as opposed to a stage race. Evan [Oliphant] and Simon [Richardson] are going really well, and Tony Gibb surprised himself by how well he was going at the Girvan.
"He'd done the Good Friday meeting at Herne Hill then flew up to Scotland that night and only got in a midnight, so it wasn't ideal but he did well. If he can climb as well again he'll be a threat."
But the Plowman Craven boys came under fire for what their opponents felt was aggressive attempts to disrupt the chase when they had Simon Gaywood away on the first day of the Girvan.
"We tried to get in amongst it and slow the chase down, which I thought was fair game, but I was later told it's not on and I accept it did get a bit rough. If that was wrong, I hold my hands up," said Beckett.
Rapha's manager John Herety was keen to play down the incident but said he felt PCA's tactics crossed the line and made things dangerous up front.
Beckett added: "We seem to be the team everyone loves to hate at the moment but we're just there to race and try to get results. We don't want to make enemies or rub people up the wrong way.
"Rivalry is great because it's good for the sport as a whole but we don't want it to spill over. We want to race hard and fair and then shake hands at the end of the day.
"Sport is gladiatorial, isn't it, but there was a bit of animosity in the race on Saturday and we don't want it to go overboard. The accusation is we rode unsportingly by disrupting the chase. I got the boys in among the chase line and I'm told that's not the done thing. We weren't trying to be nasty or dirty and we calmed it all down at the end."
Beckett said spirits in the camp were high despite the fact Rapha and Pinarello have taken the bulk of the Premier Calendar spoils so far.
"We're in good form and we feel we're due a result. Hopefully the Reservoir will be it."
The next big British event is not until the East Midlands CiCLE Classic on April 27 so Beckett is on the look-out for races and has had to look further afield than Europe.
After the Reservoir, Beckett takes eight riders (Tony Gibb, James Millard, Alex Higham, Neil Coleman, Tom Barras, Simon Gaywood, Evan Oliphant and Simon Richardson) to the United States for some racing.at the Redlands, Sea Otter Classic and the Garrett Lemire Criterium. "We need racing. Rapha had trouble getting the racing in Europe even with all John Herety's contacts, so we're really up against it. It'll be a shoestring thing, me, a mechanic and the riders, but we need the racing."
Swipe to scroll horizontally
Sunday, March 30
Distance 140km (87 miles)
Swipe to scroll horizontally
2007 Dean Downing
2006 Ben Greenwood
Other recent winners include John Tanner, Mark Lovatt and Chris Newton.
Swipe to scroll horizontally
By organiser Mike Hodgson of Tyne Valley Cycling
"This is the 23rd year of the Tour of the Reservoir and the fourth year it's been a Premier Calendar event.
"It's seven laps of a 12.5-mile circuit that goes round the reservoir. It's all left turns and the Reservoir stays on the riders' left all the way.
"The race is sponsored by Northumbrian Water and we finish up a climb on a private road. The police have said we have to have a full road closure so we'll have the benefit of that
"It's windy and rainy here at the moment but the forecast for Sunday is okay. It's a pretty hard course, the climbs aren't that hard but it's always rolling.
"I've always liked to have a top quality field and we've got another one this year. I'm the organiser so I'm not supposed to make predictions but I think the course suits the Downings. But watch for Malcolm Elliott too."
Swipe to scroll horizontally
1 Dean Downing (Rapha Condor) 3hr 40min 46sec
2 Gordon McCauley (Plowman Craven)
3 Robin Sharman (KFS Special Vehicles) both same time
Swipe to scroll horizontally
By 2007 champion, Dean Downing
"It's a hard race but it's quite a fast race, held on similar roads to the Girvan, actually. There's one steep climb that is a small ring climb and round the back of the reservoir the roads are quite dead but it's still pretty fast.
"If it's windy it can split up quickly. Last year a group of about 20 got away on the first lap but this year, with the bigger teams, it may be a bit more controlled. It's going to be a different race, I think.
"Towards the end last year, Tony Gibb attacked and split the 20-man group into about five bits. I attacked on the last hill just before the prime.
"Before it was a Premier Calendar race it used to finish on the hill but now it goes down the other side to the reservoir. I thought to myself 'If I can get to the top on my own, I'll win this' but Gordon McCauley caught me just as we got to the top.
"Then two or three others joined up so I sat in to recover a bit. The finish is alongside the reservoir and the wind can be a factor, although I don't remember it affecting the finish last year.
"Gordon made a mistake by sitting too close to Robin Sharman so I had the jump on him. I got three lengths clear with about 300 metres to go and that was enough."
Swipe to scroll horizontally
So far the scores are level, one apiece between Britain's answer to Prudencio and Miguel Indurain.
We won't say which one's which until the end of the season, but let's face it. No one wants to be Prudencio.
Dean won the Bikeline, Russell took the Girvan.
Who will sink, and who will swim at the Reservoir?
Swipe to scroll horizontally
CW?S SUPER TEAM CHALLENGE
Rapha are in control but Pinarello mounted a comeback last weekend. The pink and pale blue elephant in the room is Plowman Craven, who trail in third at the moment, but a win on Sunday will catapult them back into contention.
LATEST STANDINGS
1. Rapha-Condor-Recycling 22pts
2. Pinarello 16pts
3. Plowman Craven 9pts
POINTS ON OFFER AT THE RESERVOIR
1st - 10pts, 2nd - 5pts, 3rd 1pt
Swipe to scroll horizontally
RAPHA-CONDOR-RECYCLINGcolour>
1 Dean Downing
2 Rhys Lloyd
3 Kristian House
4 Rob Partridge
5 Ben Greenwood
6 Dale Appleby
7 Matt Rowe
8 Tom Diggle
Simon Holt and Graham Briggs replace Appleby (broken collarbone) and Greenwood (still recovering from a knee injury)
HALFORDS BIKEHUTcolour>
9
10 Tom Southam
KFS SPECIAL VEHICLES-SUNDAY BICYCLEScolour>
11 Matt Clinton
12 Dafydd Dylan
13 Gareth Hewitt
14 Greg Roche
15 James Stewart
16 Richard Sykes-Popham
17 Kieran Frend
PLOWMAN CRAVENcolour>
18 Tony Gibb
19 Simon Gaywood
20 James Millard
21 Simon Richardson
22 Alex Higham
23 Tom Barras
24 Evan Oliphant
25 Neil Coleman
SIGMASPORT-SPECIALIZED-SPORTFULcolour>
26 Matthew Stephens
27 Robin Sharman
28 Alex Wise
29 Mike Harrison
30 James Williamson
31 Neil Swithenbank
32 Daniel Duguid
PEDALPOWER.ORG.UK - ENDURAcolour>
33 Gary Hand
34 Gordon Murdoch
35 Paul Coats
36 Kevin Barclay
37 David Lines
PEARL IZUMI - PLANET X - HIGH 5 RACINGcolour>
38 Raphael Deinhart
39 Jon Mozley
40 Liam Holohan
41 Stephen Adams
42 Ashley Finn
43 Matthew Jones
PINARELLOcolour>
44 Malcolm Elliott
45 Russell Downing
46 Freddy Johansson
47 Lee Davis
48 Tom Murray
49 Matthew Kipling
50 Peter Williams
51 Ben Price
SCIENCE IN SPORT - TREKcolour>
52 Ian Wilkinson
53 Dave Collins
54 Ian Bibby
55 Richard Wilkinson
56 Tim Lawson
57 Richard Kent
58 David Fletcher
59 Ross Creber
KINESIScolour>
60 James Sampson
61 Kit Kilham
62 Matt Cronshaw
63 Jack Pullar
64 Josh James
65 Tom Last
SPORTSCOVER-SPIUK-JE JAMEScolour>
66 Ash Brown
67 Wayne Randle
68 Nigel Haigh
69 Dieter Droger
70 Richard Dean
SPORTS BEANS-WILIERcolour>
71 Marcin Bialoblocki
72 Mark Perry
73 Mark Thwaites
74 Dave Coulson
75 Grant Bayton
TEAM CORLEY CYCLEScolour>
76 Martin Freeman
77 Mark Wordsworth
78 Matthew Higgins
79 Richard Cartland
80 Carl Freeman
81 Nick Jones
PLANET Xcolour>
82 Mark Lovatt
GS STRADAcolour>
83 Kevin Dawson
TEAM LACUNAcolour>
84 Robert Orr
85 David Clarke
86 David Smith
87 Richard Williamson
YORK CYCLEWORKScolour>
88 Alastair Kay
ARTIC-PREMIER RACING TEAMcolour>
89 Simon Wilson
90 Jon-Kris Mason
GS METROcolour>
91 Alan Mill
92 Michael Mallon
VC AZZURRIcolour>
93 Steven Kenny
DOOLEY'S CYCLING RACING TEAMcolour>
94 Paul Rennie
95 Arthur Doyle
TEAM ISLE OF MANcolour>
96 Graeme Hatcher
97 Warren Flynn
DONCASTER WHEELERScolour>
98 Paul Bell
VC MONTPELLIERcolour>
99 Wayne Coombs
PEZULA RACINGcolour>
100 Richard Meadows
MID-DEVON CCcolour>
101 Jonathon Tiernan-Locke
ALL TERRAIN CYCLEScolour>
102 Matthew Robinson
ASHFIELD RCcolour>
103 Owain Lovell
LANCASHIRE ROAD CLUBcolour>
104 Craig Battersby
105 Daniel Drake
HOPE FACTORY RACINGcolour>
106 Paul Oldham
FP MAILING CYCLE TEAMcolour>
107 Rob Pugh
ANDERSON'S RACINGcolour>
108 Bryan Pool
109 Colin Ash
MTS INKLANDcolour>
110 Rick King
111 James Moss
112 Simon Baxter
113 Lewis Medows
114 Daren Tiffin
ALTURAcolour>
115 Andy Oliver
RUTLAND CCcolour>
116 Philip Holwell
KUOTA-BIEMME-SPINERGYcolour>
117 Leigh Cowell
AJCHA LIMOUXcolour>
118 Dean Robson
WAKEFIELD CCcolour>
119 Richard Hepworth
TEAM EMPORELLIcolour>
120 Ian Zegg
MJS RACINGcolour>
121 Ben Stockdale
MAXGEARcolour>
122 Joshua Andjelkovic
THE BICYCLEWORKScolour>
123 Callum Wilkinson
JE JAMEScolour>
124 James Wagstaff
FP MAILINGcolour>
125 Stephen Rudkin
KESWICKBIKES.CO.UKcolour>
126 Alistair Robinson
UC CARHIREcolour>
127 Maximiliam Bienkowski
PICARSSON-PULMANcolour>
128 Stuart Wearmouth
NORTHUMBRIA FINANC colour>
129 David Robinson
SP SYSTEMS-WIGHTLINKcolour>
130 Mike Rudling
LUTTERWORTH CYCLE CENTREcolour>
131 Gavin Evans
JOHN'S BIKEScolour>
132 Alec Leslie
RED KITE TORQcolour>
133 Graham Oliver
ACTIVCYCLEScolour>
134 Colin Neil Humprey
CLEVELAND WHEELERScolour>
135 Marcus Smith
EAST KILBRIDEcolour>
136 Paul McInally
IN GEAR DEVELOPMENTcolour>
137 James King
WHEELBASE-GORE BIKE WEARcolour>
138 Damian Smith
Thank you for reading 20 articles this month* Join now for unlimited access
Enjoy your first month for just £1 / $1 / €1
*Read 5 free articles per month without a subscription
Join now for unlimited access
Try first month for just £1 / $1 / €1
Get The Leadout Newsletter
The latest race content, interviews, features, reviews and expert buying guides, direct to your inbox!
Sports journalist Lionel Birnie has written professionally for Sunday Times, Procycling and of course Cycling Weekly. He is also an author, publisher, and co-founder of The Cycling Podcast. His first experience covering the Tour de France came in 1999, and he has presented The Cycling Podcast with Richard Moore and Daniel Friebe since 2013. He founded Peloton Publishing in 2010 and has ghostwritten and published the autobiography of Sean Kelly, as well as a number of other sports icons.