PLOWMAN CRAVEN WINNING IN BERMUDA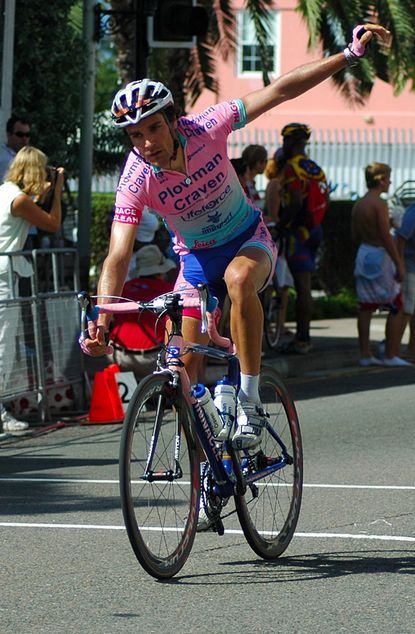 Tom Barras and Marc Perry of the Plowman Craven team recently travelled to the Caribbean to compete in the Bermuda Grand Prix. A popular end of season event for European riders.
They sent in the following report:
The racing kicked off with an hour long Criterium on Thursday night held on Morgan's Point (on the north shore of the island). The Plowman Craven pair attacked early on in the race to take the first two steps on the podium, with Barras outsprinting Perry to claim the honours.
The first stage of the Grand Prix was held on Saturday morning, using the same circuit. The plan was to gain maximum points advantage over the other contenders, as the General Classification was to be decided on a points (not time) structure. Marc Perry attacked the field after fifteen minutes of racing, and Tom Barras bridged across to him a lap later. The Plowman Craven pair shared the effort, with Barras again taking the stage win from Perry and becoming the race leader.
Stage two was a road race held on Sunday morning in Bermuda's Capital of Hamilton. The course covered twelve laps through the town centre, tackling the steep Corkscrew Hill each lap. In the sweltering morning sun, the peloton stayed together for half of the race before the hill began to take it's toll on the riders. At around half distance, Barras and Perry forced a breakaway on the climb, soon to be joined by Bermuda's Garth Thomson and Canada's Josh Hall.
The quartet worked strongly together to forge a 30-second advantage over the rest of the field. Coming into the last kilometer, Hall attacked and sprinted for the line, but Barras stayed vigilent and managed to overhaul the Canadian in the closing 100 metres to claim his third victory of the week, and strenghten his hold on GC. Perry held on for third place and kept second place overall.
The final stage of the Grand Prix was a seven mile time-trial held in the beautiful setting of Clearwater Bay. The Plowman Craven duo were not daunted by the TT bikes of their competitors and gave it their all on their Pinnacle road bikes. The time trial was won by Garth Thomson, with Barras happy to take second place at 33 seconds (averaging 30mph!), but cement his position as overall 2008 Bermuda GP winner. Perry was 28 seconds adrift, finishing the race in a very admirable third overall for the 21 year-old.
The next events on the calendar for the Plowman Craven Team are the Preston and Blenheim Palace criteriums this coming weekend.
EXTERNAL LINKS
Thank you for reading 20 articles this month* Join now for unlimited access
Enjoy your first month for just £1 / $1 / €1
*Read 5 free articles per month without a subscription
Join now for unlimited access
Try first month for just £1 / $1 / €1