Pooley and Cooke to clash at national time-trial championships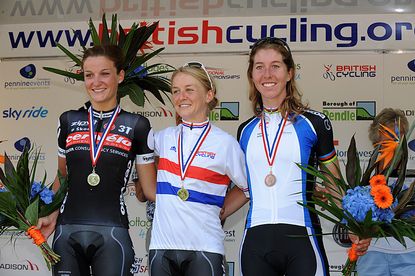 Nicole Cooke and defending champion Emma Pooley (Cervelo) are set to clash at the national time-trial championships in September.
Reigning Olympic champion Cooke has entered the championship, while Pooley signalled her intentions to defend her title to Cycling Weekly: "I definitely plan to, although I haven't entered yet."
The BTTC event sees the women covering 30km and men 50km on the course around Llandeilo on September 5.
Cooke, who has been racing with the GB national team this year, has never won the British time-trial crown, often electing not to enter. Adding spice to the clash, the Welsh-born rider's nine-year successive run of national road race wins was ended by Pooley in June.
There may still be some residual ill feeling between the two. The events of the road race led to Cooke filing a protest against team riding. Later, she told CW: "When Emma is in the break and she says she's not going to contribute because she wants to wait for a teammate, what's that?"
Pooley defended her actions, saying: "Yes, I'd rather one of my teammates won than her, but we didn't work her over... I know Nicole got kind of picked on, but she's had teammates at nationals before and hasn't been shy about using them."
The pair will be racing for their respective teams at the Vargarda World Cup races in Sweden on Friday and Sunday.
After the national championships, they are scheduled to go to the World Championships in Melbourne (September 29-October 3) and the Commonwealth Games (October 3-14) in Delhi.
Olympic silver medallist Wendy Houvenaghel is also expected to start in Wales.
Entries for the BTTC national championships close on August 7.
Related link
Pooley beats Cooke for national championship win
External link
Thank you for reading 20 articles this month* Join now for unlimited access
Enjoy your first month for just £1 / $1 / €1
*Read 5 free articles per month without a subscription
Join now for unlimited access
Try first month for just £1 / $1 / €1