POOLEY TAKES SILVER IN OLYMPIC TIME TRIAL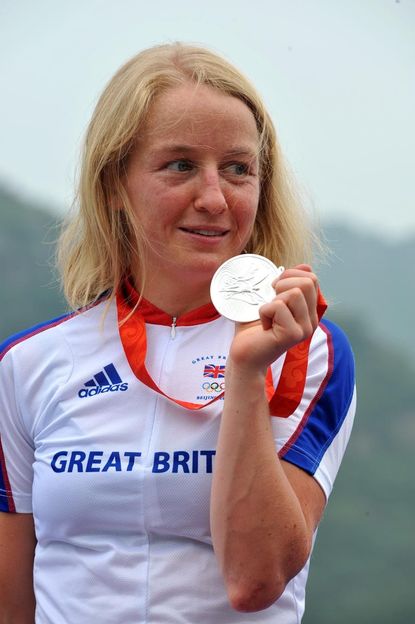 British cycling has soared to its second medal in Beijing in less than four days ? a silver for Emma Pooley in the women?s road time trial.
Gold went to American Kristin Armstrong, with Pooley 24 seconds behind, and Swiss rider Karin Thürig took bronze, 59 seconds back. Welshwoman Nicole Cooke finished 15th, and although she collapsed exhausted after crossing the line, is reported to be ok.
On a course based around the final segment of the road-race ? a long draggy uphill past the Great Wall of China and fastish downhill ? Pooley had a faultless, incident-free ride. The result was she was fastest at the time split at the top, three seconds ahead of Armstrong.
?It?s a wonderful landscape and I did admire the scenery and the Wall when training, but this time round, all I was doing was focussing on the next 100 metres and concentrating on going as fast as possible.? Pooley said afterwards.
What effectively earned Pooley the medal was her capability to maintain that initial advantage on the descent over all barring the American former double World Champion. It was a fast, power-riders descent, but Pooley ? who has been working on her descending since last year ? was able to pull it off.
And Pooley rode a bike with a specially-adapted set of handlebars to replicate her favoured position for hill climbing.
The weather stayed dry, if exceptionally humid, for all the riders, and Pooley was fifth off. But she had caught two-minute women Edita Pucinskaite by the top of the climb and by the finish had China?s Lang Meng, off six minutes before, firmly in her sights.
?The descent seemed to go on forever.? Pooley pointed out. ?With five kilometres to go, I kept on thinking, I?m sure this was the finish. But it wasn?t.?
Once finally across the line, a long wait then ensued, but Norwich-born Pooley ? currently studying soil engineering in Zurich ? seemed fairly relaxed about it all, despite this being her first outing to the Olympics.
?I spent most of my time keeping [women?s coach] Julian Winn from getting agitated.? Pooley revealed. ?That way I didn?t get too stressed myself.?
?I couldn?t really imagine myself winning, I just tried to stay calm.?
As the specialist time triallists crossed the line, it seemed almost inevitable that Pooley would be beaten ? but finally only Armstrong was able to get past the Briton.
?To tell the truth I was a shade miffed to be off so early, but finally it paid off, because it made me think ? I?ll show ?em.?
Swipe to scroll horizontally
1 Kristin Armstrong (USA) 23.5km in 34mins 52sec
2 Emma Pooley (GB) at 24sec
3 Karin Thurig (Switzerland) at 59sec
4 Jeannie Longo-Ciprelli (France) at 1min 01sec
5 Christine Thorburn (USA) at 1min 02sec
6 Judith Arndt (Germany) at 1min 08sec
7 Christiane Soeder (Austria) at 1min 29sec
8 Priska Doppman (Switzerland) at 1min 36sec
9 Zulfiya Zabirova (Kazakhstan) at 1min 37sec
10 Susanne Ljungskog (Sweden) at 1min 41sec
15 Nicole Cooke (GB) at 2min 22sec
RELATED LINKS
Pooley?s ?special? handlebars power her to silver
Pooley?s reaction: I feel fantastic
Swipe to scroll horizontally
Positive test for cyclist at Olympic Games
Bettini chasing second Olympic gold
Romero poses nude for ad
British quartet eyeing new world record
As Olympics approach two new drugs emerge
Beijing Blog
Beijing Blog 2
Swipe to scroll horizontally
Men's time trial reaction: Steve Cummings on his ride
Women's time trial reaction: I feel fantastic, says Pooley
Pooley wins silver in women's time trial
Cooke's secret was the skinsuit
What the papers say... about Nicole Cooke
Analysis: women's road race
Gold for Nicole Cooke in Women?s road race
Reaction: It?s a dream to win Gold, says Cooke
Women's Olympic road race picture special
Sanchez gives Spain gold in thrilling men?s road race
Who is Samuel Sanchez?
Tactical analysis: Reading the men?s Olympic road race
British riders suffer in hot and humid Olympic road race
Rebellin misses out on golden birthday
Brailsford confident ahead of women?s road race
Swipe to scroll horizontally
OLYMPIC GAMES 2008: TRACK
Cavendish unlikely to ride individual pursuit
Swipe to scroll horizontally
OLYMPIC GAMES 2008: GUIDE
Olympics cycling results>>
Cycling event schedule>>
Great Britain rider profiles>>
Cycling event guide>>
Photo gallery>>
British Olympic cycling medal winners>>
Thank you for reading 20 articles this month* Join now for unlimited access
Enjoy your first month for just £1 / $1 / €1
*Read 5 free articles per month without a subscription
Join now for unlimited access
Try first month for just £1 / $1 / €1