TfL make new improvements proposal for gyratory in Wandsworth
Wandsworth High Street is the latest gyratory road system to be marked for improvement, with some roads being accessible only by bicycle and bus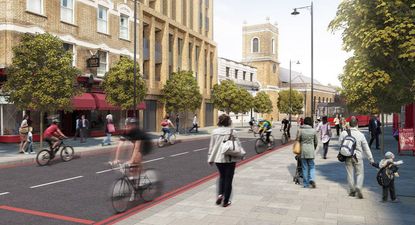 (Image credit: TfL)
Proposals have been made for changing Wandsworth High Street from a busy one way system to a more pedestrian and cyclist friendly town centre.
This London gyratory joins the hit list of others for transformation, with proposals to remove a busy four lane one-way system in Wandsworth town centre, and make parts of it accessible only on bus or bike.
Wandsworth town centre, in South West London, is home to one of the capital's most hostile gyratories for cyclists and those on foot, with high volumes of traffic and congestion on a four lane one-way system slicing through the area's main shopping streets. The key objective of the consultation, released for initial feedback, is to revitalise the high street by re-routing through motor traffic elsewhere.
Plans include the creation of wide pavements, while it is hoped a reduction in through car traffic will help create a more people- and cycle-friendly environment.
The Mayor of London, Boris Johnson, said: "This car-clogged one-way system has made the area particularly hostile to pedestrians and cyclists. These major improvements will see the junction completely transformed and turned into a much more civilised place for everyone, encouraging more people to use the local high street and driving wider regeneration of the area."
Cllr Ravi Govindia, Leader of Wandsworth Council, said: "Redesigning the one way system and removing the traffic that's had such a negative effect on the town centre's fortunes has been a key aim of the council for many many years and so I'm delighted that these ambitions are now gathering pace.
"This consultation seeks the public's views about the general principle of making these changes. We are not yet in a position to say what the detailed designs will be but these will be produced for the next round of consultation if this process moves forward. At the moment it is important that TfL gauges the views of local residents and businesses to see if they support this strategic objective."
The north part of the gyratory will remain two-way for through traffic, while a section of the south side, the High Street, will permit buses and cycles, servicing and access only. One section will only permit buses and cycles.
Although the plans are a huge improvement in terms of public realm from the gyratory there is no dedicated space for cycling on the artists' impressions - cyclists are pictured mixing in with motor traffic instead.
The improvements will be funded by a £16.5m community infrastructure levy from the nearby Ram Brewery development in Wandsworth Town, and are part of wider regeneration plans for the area.
Plans released are open for consultation until December 6. A further consultation, in 2015 will contain more detailed plans, and, subject to consultation, work could begin in 2017.
Peers congratulate Baroness after bizarre confession
Thank you for reading 20 articles this month* Join now for unlimited access
Enjoy your first month for just £1 / $1 / €1
*Read 5 free articles per month without a subscription
Join now for unlimited access
Try first month for just £1 / $1 / €1