"I hit cyclist," Baroness Sharples tells House of Lords
Second offence for the Baroness — but other Lords say she's to be congratulated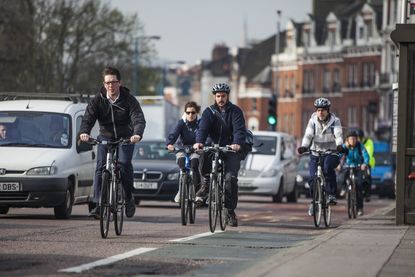 (Image credit: Chris Catchpole)
What seemed like a run-of-the-mill debate on cycle safety in the House of Lords took a bizarre twist last Thursday when Baroness Sharples bragged that she'd recently hit a cyclist — and her fellow Lords congratulated her.
It isn't the first such offence for the 91-year-old peer. In 2008 she made headlines after hitting a cyclist with her handbag after she saw him run a red light.
The debate began by the Baroness asking Lord Popat, government spokesman in the House of Lords for the Department of Transport, if there were any plans to make helmets compulsory for cyclists.
When Lord Popat told the House that there were no plans to introduce such legislation, Baroness Sharples replied: "If cyclists wore helmets, would they not be more visible and certainly safer? Can we also persuade them not to ride on pavements? Is my noble friend aware that recently, on a crossing outside the House, I hit a cyclist on the back because he did not stop and his friends behind shouted, 'Well done — why didn't you hit him harder?'"
Lord Popat was in firm agreement. "If we had more people with the courage and decency of my noble friend, the world would be a better place," he replied.
The Baroness's intervention was obviously a popular move. Lord Berkeley added, "My Lords, I congratulate the noble Baroness. I would not like to meet her when on my bike on a dark night."
The debate did eventually turn to cycling infrastructure, and Lord Berkeley repeated the position of the Transport Select Committee that the government needs to spend £10 per head on cycling funding. But for some participants in the debate, cyclists hadn't yet received enough of a bashing, and the focus returned to errant riders in breach of the law.
Lord Blencathra suggested that "there is a serious point about protecting pedestrians". He highlighted the "small minority of arrogant Lycra louts who sail through red traffic lights as if the law does not apply to them, belt down the pavement and scatter pedestrians".
Lord Davies echoed calls for the Government to increase expenditure on cycling safety, and concluded by joking, "On a personal note, cycling down the River Lea for seven miles most mornings I always think that the safety device I need is not a helmet but water wings."
The full debate can be read here.
Louise Ellman MP speaks with Paul Cooper as she leads the commitee inquiry into cycling safety
Thank you for reading 20 articles this month* Join now for unlimited access
Enjoy your first month for just £1 / $1 / €1
*Read 5 free articles per month without a subscription
Join now for unlimited access
Try first month for just £1 / $1 / €1