MPs call for £10 per head cycling budget for Britain
Transport Select Committee publishes report based on expert evidence - £10 per head spending to get more people cycling - Report recommends more 20mph speed limits - Government must respond to report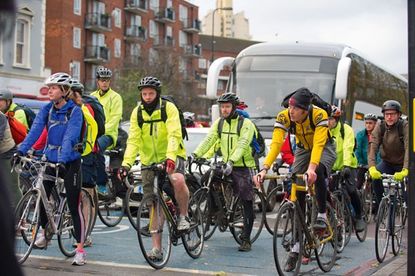 MPs on the Transport Select Committee are calling an increased cycling budget to £10 a head by 2020, in a report which the British government must respond to within two months.
CTC and Sustrans both welcome the report, which includes evidence from experts including the CTC, the AA, the Freight Transport Association and Chris Boardman, but says we need £10 per head spending now to get more people on bikes.
The report recommends more 20mph speed limits, improved safety records among HGV operators, attitudes to cycling to be included in the driving test, and that cycling be designed into new infrastructure projects.
Louise Ellman MP, Chair of the Transport Committee said: "Last year 109 cyclists were killed on our roads, and over 3,000 seriously injured. Cyclists have told us the dangers they face every day from a lack of cycling infrastructure, poorly-designed junctions and aggressive driving.
"The DfT should support local authorities to make it easier and cheaper for them to introduce 20 mile an hour speed limits in high-risk areas.
"The road haulage and construction sectors must pursue best practice to improve their road safety record. It's vital they curb the high number of big vehicles - such as concrete and tipper lorries - involved in fatal collisions with cyclists."
She added there needs to be a cultural change across government so departments work together to encourage cycling.
The £10 per head per year recommendation is five times greater than the current estimated £2 per head per year.
Jon Snow, CTC President, said: "The positive recommendations made by the Select Committee are good news, but we need our Government to go one step further and make the commitment to at least £10 per head funding to make safe cycling within the United Kingdom with immediate effect, not six years from now."
The Committee's first evidence session sparked a barrage of criticism online from campaigners, among them Chris Boardman, over MPs' lack of knowledge of cycling issues, when discussions focussed on red light jumping, pavement cycling and helmets, rather than how to improve road safety for those on bikes.
Chris Peck told Cycling Weekly: "It is a real breakthrough considering how bad the first session was. Then it didn't look like they were taking it seriously but I think the backlash they received on social media and critics made them realise they have to take it much more seriously."
He added the inclusion of an assessment of attitudes to cycling in the driving test was significant, but that a weakness of the report is around traffic law and enforcement and speed limits, a sentiment echoed by Sustrans who say without default 20mph speed limits in built up areas people face a 'road safety postcode lottery'.
The report follows All Party Parliamentary Cycling Group recommendations of £10-£20 per head per year spending on cycling in the report Get Britain Cycling. However, as a function of government a select committee report requires that the government make a reasoned response within two months.
Thank you for reading 10 articles this month* Join now for unlimited access
Enjoy your first month for just £1 / $1 / €1
*Read 5 free articles per month without a subscription
Join now for unlimited access
Try first month for just £1 / $1 / €1