Race around Yorkshire with free cycling game app
Train up your team and then race on Yorkshire's roads with free-to-download app, Yorkshire's Great Race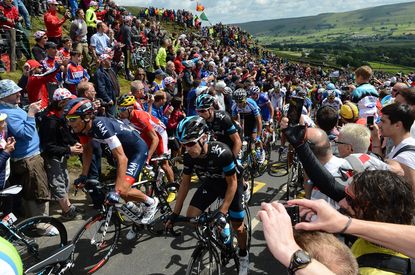 Fancy cycling around the Yorkshire roads used in the Tour de France Grand Depart? Well you can – via your phone.
Mobile phone application firm, twentysix, have launched their latest app that allows users to relive the excitement of the Tour with their game Yorkshire's Great Race.
The game allows riders to take on four international riders for a chance to win the championship for Great Britain and team Leeds Bradford Airport.
Gamers begin the game by selecting the all-important training before choosing from nine tracks around Yorkshire to race on or they can challenge their own records in time trial mode.
The routes include parts of Leeds, Sheffield, York, Harrogate, Holmforth, Buttertubs Pass, Peak District and Langsett.
The touch-based game works by tapping the screen to gain speed and swiping across the screen to turn corners.
There is a coach to provide tips, while riders also have to monitor their stamina levels but can gain energy boosts for perfectly executed corners.
The free app can be downloaded from the iTunes app store. (opens in new tab)
Thank you for reading 5 articles this month* Join now for unlimited access
Enjoy your first month for just £1 / $1 / €1
*Read 5 free articles per month without a subscription
Join now for unlimited access
Try first month for just £1 / $1 / €1