Rapha return to winning ways at Exeter round of Tour Series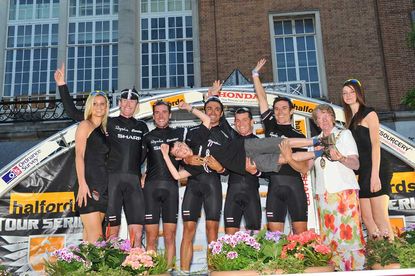 After a disastrous race for the team in Portsmouth on Tuesday evening, Rapha-Condor-Sharp returned to the forefront of the Tour Series by taking the win at the fourth round in Exeter last night.
In front of the biggest crowds yet seen on this year's series, Dean Downing took the bunch sprint to repeat his individual win of last year.
With Australians Zak Dempster second and Dean Windsor fifth (making a sandwich from Endura riders Ian Wilkinson and Jack Bauer) Rapha also produced a replay of last year's team victory.
"We had a bit of a chat before the start about things that went wrong on Tuesday night - me puncturing, a lack of communication in the team," said Downing. "This time we covered everything - got in all the moves, made the attacks, put the pressure on the race. Briggsy got the sprint award and then we took the victory with the team. Everybody rode fantastic."
Despite winning the team prize ahead of Endura and CyclePremier.com, fourth placed Motorpoint-Marshalls Pasta maintain a healthy margin at the top of the overall series. Although Rapha have now moved up to second, their ninth place on Tuesday leaves them still trailing the leaders by four points.
"We messed up a bit, we didn't ride well as a team," said Jonny McEvoy on his Motorpoint team's performance last night. "When one of us was at the front, the others were a bit far back. We messed up the finish as well. But the main thing is that we're still in the lead. We've just got to stay on top of it."
"Motorpoint are in a really strong position now," said Downing. "Four points is a long way when there's only a one point difference between finishing first and second. It's going to take some big results for us to win overall now."
Thanks to competition wins at Canary Wharf and Portsmouth, then second place behind Graham Briggs last night, Team Raleigh's Liam Holohan has moved into the lead in the overall sprint competition.
Results
Team
1) Rapha - Condor - Sharp
2) Endura Racing
3) CyclePremier.com - Metaltek
4) Motorpoint - Marshalls Pasta
5) Team Corley Cycles
6) Sigma Sport - Specialized
7) Pendragon - Le Col - Colnago
8) Team Raleigh
9) Team Ireland
10) Kuota - road.cc
Individual
1) Dean Downing Rapha - Condor - Sharp
2) Zak Dempster Rapha - Condor - Sharp
3) Ian Wilkinson Endura Racing
4) Jack Bauer Endura Racing
5) Dean Windsor Rapha - Condor - Sharp
The Halfords Tour Series Standings (after four rounds)
1) Motorpoint - Marshalls Pasta 35pts
2) Rapha - Condor - Sharp 31pts
3) Endura Racing 31pts
4) Pendragon - Le Col - Colnago 26pts
5) Sigma Sport - Specialized 24pts
6) Team Raleigh 23pts
7) CyclePremier.com - Metaltek 21pts
8) Team Corley Cycles 14pts
9) Kuota - road.cc 10pts
10) Team Ireland 5pts
Boardman Bikes Sprints Competition Results
1) Graham Briggs Rapha - Condor - Sharp 14pts
2) Liam Holohan Team Raleigh 9pts
3) Dean Downing Rapha - Condor - Sharp 7pts
Boardman Bikes Sprints Competition Overall Standings
1) Liam Holohan Team Raleigh 30pts
2) Graham Briggs Rapha - Condor - Sharp 24pts
3) Kristian House Rapha - Condor - Sharp 22pts
Thank you for reading 5 articles this month* Join now for unlimited access
Enjoy your first month for just £1 / $1 / €1
*Read 5 free articles per month without a subscription
Join now for unlimited access
Try first month for just £1 / $1 / €1