RASMUSSEN ADMITS LYING TO UCI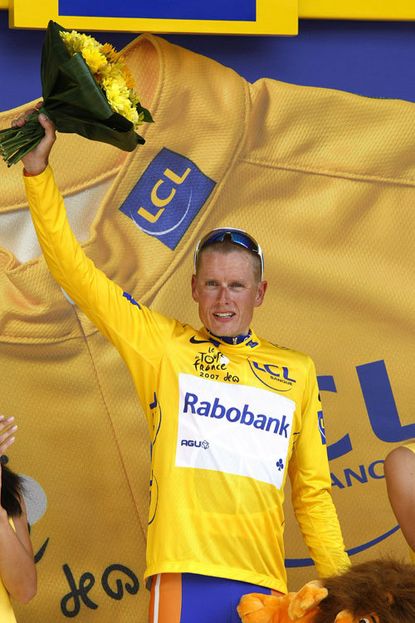 Michael Rasmussen has admitted he was not in Mexico before the Tour de France - as he has previously claimed - and revealed that his Rabobank team knew where he was.
Rasmussen tried to come clean during a press conference in Copenhagen on Thursday and also supplied a list of his haematocrit and haemoglobin values from during the 2007 season (below) in a desperate attempt to find a team for 2008.
Rasmussen said he has decided to speak out after hearing his former Rabobank team will reveal details of their internal investigation into the events which lead to them pulling Rasmussen out of the Tour de France when he was on the point of sealing overall victory in the Pyrenees.
?First of all I would like to clearly state that I was not in Mexico in June. I have therefore misinformed both the UCI and the public. It is, however, important for me to stress that at no point did I lie to the team Rabobank,? Rasmussen said.
?I would like to apologise to both the public and the UCI for giving out false information. I did this for personal and marital reasons alone and in consideration of my family I will not elaborate further on this matter. I ask the press to kindly respect this ? today and in future.?
In the statement, Rasmussen said he has informed the Rabobank investigation of his lies and will likewise inform the UCI in an already scheduled meeting. He claims that he never misinformed Rabobank about his whereabouts and confirmed he had a meeting with Rabobank?s Chief Sporting Director Erik Breukink in Italy on June 7 where they discussed the preparations for Tour de France.
He also claims he studied several Tour stages with team mate Denis Menchov and a Rabobank soigneur in June, flying to the Pyrenees on tickets booked by Rabobank.
?It is therefore completely absurd that Rabobank took me out of Tour de France claiming that I had misled them. You cannot mislead people who have known the truth all along,? Rasmussen said.
Former Italian rider Davide Cassani had unintentionally sparked the controversy off during the Tour when he said that in June he had come across Rasmussen training in the middle of a storm in the Dolomites - at a time when Rasmussen had said he was in Mexico. Rasmussen now confirms that he met Cassani on June 13th.
BIOLOGICAL PASSPORT
Despite admitting he has spun a web of lies and even lied about his lies, Rasmussen is trying to find a team for 2008. Although few people will perhaps believe him, he has also released a list of haematocrit tests (below) in an attempt to create his own 'biological passport'. He claims all the values show normal variations that should give absolutely no cause for suspicion about manipulation.
?I would like to stress that I have violated the whereabouts regulations but I have never missed a doping control performed by the UCI. From this point on I will obey all UCI rules and I am still available for control. Thus, I can also tell you that after the Tour de France I have had two further out of competition tests from the UCI with no remarks. My greatest wish right now is to ensure clarity about this matter and be able to return to professional cycling,? Rasmussen said in his statement.
The Rabobank report on what happened in the Tour de France - and before - is due to be published on Monday.
RELATED LINKS
Rasmussen out of Tour
Michael Rasmussen: Rabobank statement
Thank you for reading 20 articles this month* Join now for unlimited access
Enjoy your first month for just £1 / $1 / €1
*Read 5 free articles per month without a subscription
Join now for unlimited access
Try first month for just £1 / $1 / €1