READE CRASHES OUT OF BMX OLYMPIC FINAL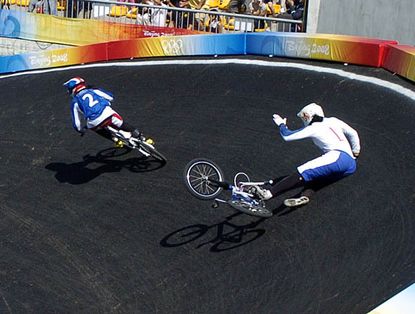 Shanaze Reade?s bid to take British Cycling?s 15th medal in Beijing collapsed in dramatic style when she crashed at the last corner of the final race.
Poised to pounce on key rival Anne-Caroline Chausson, Reade took the final corner too tight, clipped the Frenchwoman?s back wheel and went flying.
Chausson went on to win, whilst Reade - evidently in pain - picked herself up, and walked to the finish.
?I guess they say you learn the hard way, and today I learned the hard way.? Reade said later.
?All I can say to everybody is thanks for your support. I?ve put absolutely everything into this, everything from the age of ten.?
?But I?m an athlete, I?ll come back stronger in London, turn it round and show everybody I?m made of.?
Reade?s crash in the final was her third in the Olympic series - she?d also gone down in the seeding but eventually clocked the second fastest time behind Chausson - and second crash of the day.
In the first heat of the semifinals, the 19-year-old hit the deck on the first corner when leading - possibly hitting the corner too fast - and crossed the line in seventh spot limping, in pain but in a defiant mood.
?Gold medals don?t come easy.? she said afterwards and Reade then battled back with a vengeance to take second in the second semifinals. She then won the last round with the fastest time for the semis - and a huge grin on her face.
The final, though, was another story. Taking her usual lead before early on, Chausson came round the Briton on the first corner. Reade shadowed her all the way to the final bend, cutting from right to left just beforehand and attempting to overtake - but she then went wide and clipped the Frenchwomen?s back wheel. Game over.
?This time round there have been some real ups and downs.? Reade recognised afterwards. ?I crashed in the time trial, got back up, got second, then got first in the last semifinal".
?Really, though, I couldn?t have put any more into the racing than I have done this week. I?m cut up and hurt, it?s been a tough day.?
Reade's next stop was due to be the European U-23 track championships, but this may not now happen.
"I may have broken my hand." - unconfirmed reports say she has headed to hospital for an x-ray - "I've cut my shoulder open and I think I've hurt my sciatic nerve. Before thinking about the Europeans' I'll have to see what the extent of the damage is."
BMX women's final
1 Anne-Caroline Chausson (FRA) 35.976
2 Laetitia le Corguille (FRA) 38.042
3 Jill Kintner (USA) 38.674
4 Sarah Walker (NZL) 38.805
5 Gabriela Diaz (ARG) 39.747
6 Nicole Callisto (AUS) 1min 19.609
7 Sammy Cools (CAN) DNF
8 Shanaze Reade (GB) REL
Reade is head-to-head with Chausson until the final berm...
... when disaster strikes the British rider
Photos by Phil O'Connor
Swipe to scroll horizontally
OLYMPIC GAMES 2008: TRACK
Track day five in pictures
Track day five summary
Wiggins and Cav miss out in Madison
Gold for Hoy and Pendleton, silver for Kenny
Track day four in pictures
Preview: Day five at the Laoshan
Brad on Cav: He's like a schoolkid he's so up for it
Day four as it happened: Team pursuit gold and another world record
Day three summary: Gold for Romero. Pendleton, Hoy in charge in sprints. Kenny the revelation
From rower to cyclist: Romero takes an emotional gold
Brits smash world team pursuit record in round one
Tough day for the Dutch
Preview: Monday at the Laoshan
Day two in pictures
Sunday's action as it happened
Preview: Sunday at the Laoshan
Day two at the track: Summary of the action
Hoy and Edgar clean up in the Keirin
Wiggins gets pursuit gold, Burke wins bronze
Newton storms to bronze in points race
Saturday's action as it happened: Two gold, a silver and two bronze for Britain
Blog: Life in Laoshan
Day one in pictures
Brits blast to team sprint gold
Day one at the track: Summary of the action
Friday's action as it happened: Gold for team sprint trio; Wiggins, Houvenaghel and Romero well in control
Burke blasts to new individual pursuit PB
British track stars raring to go
What makes the Laoshan such a challenge
Picture special: CW takes you inside the Laoshan velodrome
Saturday's preview
Friday's preview
Can these legs make an Olympic champion?
Cavendish unlikely to ride individual pursuit
How many medals will Britain's riders win?
Swipe to scroll horizontally
Cooke and Thomas to get heroes' welcome in Wales
Positive test for cyclist at Olympic Games
Bettini chasing second Olympic gold
Romero poses nude for ad
British quartet eyeing new world record
As Olympics approach two new drugs emerge
Beijing Blog
Beijing Blog 2
Beijing Blog 3
Swipe to scroll horizontally
Picture special: Women's time trial
Cancellara wins men's time trial gold
Men's time trial reaction: Steve Cummings on his ride
Women's time trial reaction: I feel fantastic, says Pooley
Pooley wins silver in women's time trial
Cooke's secret was the skinsuit
What the papers say... about Nicole Cooke
Analysis: women's road race
Gold for Nicole Cooke in Women?s road race
Reaction: It?s a dream to win Gold, says Cooke
Women's Olympic road race picture special
Sanchez gives Spain gold in thrilling men?s road race
Who is Samuel Sanchez?
Tactical analysis: Reading the men?s Olympic road race
British riders suffer in hot and humid Olympic road race
Rebellin misses out on golden birthday
Brailsford confident ahead of women?s road race
Swipe to scroll horizontally
OLYMPIC GAMES 2008: GUIDE
Olympics cycling results>>
Cycling event schedule>>
Great Britain rider profiles>>
Cycling event guide>>
Photo gallery>>
Every British cycling medal ever won at the Olympic Games
From paupers to kings: The lottery funded revolution>>
Track results at the Worlds and Olympics 2004-2008
Thank you for reading 20 articles this month* Join now for unlimited access
Enjoy your first month for just £1 / $1 / €1
*Read 5 free articles per month without a subscription
Join now for unlimited access
Try first month for just £1 / $1 / €1