Reading Track League likely to end unless volunteers found
Since 1955 track racing has taken place at Reading's Palmer Park track but the Track League's future is in doubt with a lack of volunteers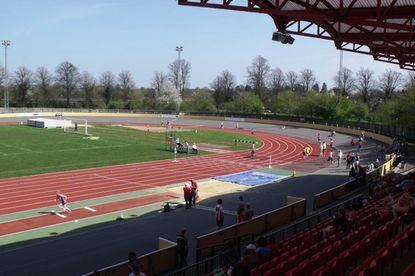 The Reading Track League could cease to exist if volunteers cannot be found, bringing to an end 60 years of racing.
The Track League has been running since 1955 at the town's 459m Palmer Park outdoor track, with competition between the spring and the autumn.
However, a dearth of personnel who can assist with the running of the league has thrown its continuation into turmoil. The velodrome's existence could also be at a threat if the league cannot carry on.
People who can assist with the transponder computer system, which categories results immediately, are most required, as is people who can coordinate the league, change lap boards, judging and other track-related duties.
"We might be able to struggle on next year [without more volunteers] but it will be very, very difficult," one of the current four volunteers and former organiser Richard Poole told Cycling Weekly.
>>> Plans to build Britain's seventh indoor velodrome in Inverness
"People don't need to know about track racing to work the transponder because it's essentially just a computer exercise.
"All we need is a bank of people who could commit two or three times a year, a handful who we can call upon and work within a rota.
"We have had three transponders but when two are away, we're in trouble. We can run the league without the transponder but it has been such a success, having results immediately and being able to mix categories in races and still get results."
The Track League has sent an appeal around regulars, requesting help, but so far no one has been forthcoming. Poole believes that more race leagues are keeping people away from volunteering.
"It's usually the elderly who volunteer, former racers, but when they move on no one seems to come forward," he added.
Six Day action in London starts on Sunday
"These days riders don't hang up their wheels in their early 40s; they go for the age group leagues and veteran leagues. They're still racing and that's contributed."
The news of the league's uncertain future comes in the same year that the velodrome was deemed unfit for competitive use, forcing immediate repairs to be made to the track and which delayed the league's start. The two issues, however, are unrelated.
People wanting to volunteer or find out more information can contact Richard on 01189 867144 or via email on r.poole@btinternet.com
Thank you for reading 20 articles this month* Join now for unlimited access
Enjoy your first month for just £1 / $1 / €1
*Read 5 free articles per month without a subscription
Join now for unlimited access
Try first month for just £1 / $1 / €1