Racing returns to Palmer Park velodrome in Reading
Outdoor track at Palmer Park in Reading is deemed fit again for competitive cycling following repairs to perimeter fence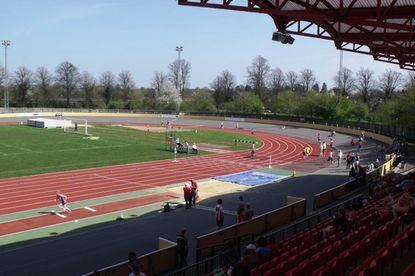 Competitive racing will return to the Palmer Park velodrome in Reading next week after repairs were carried out to improve the safety of the 459m outdoor track.
The track was deemed unsafe for racing by British Cycling in mid March following an independent survey, however action from Reading Borough Council and staff at the sports facility to repair the track fencing and remove an outer fence made of concrete posts and steel railings means the local track league can start for the season this Monday, April 27.
"The council were actually surprisingly quick, they've always been dragging their heels about other things," Gisela Bradbury, organiser of the Reading track league, told Cycling Weekly.
"I'm not entirely happy that it was deemed unfit just three weeks before racing was due to start, but at the end of the day we've got the track back."
British Cycling's cycle sport and membership director Jonny Clay added in a statement: "we said in March when issues were identified that we wanted to see racing return to Palmer Park as soon as possible. I'm delighted with the speed in which issues have been identified and updated to allow the track's full reopening.
"I would like to thank everyone who was worked on the track improvements and the representatives from Reading Borough Council, Palmer Park track and local clubs who have all contributed to making this such a quick turnaround."
The Easter Open Meet, due to take place on April 5, and the opening round of the track league were both cancelled due to the repairs. However coaching and training sessions have continued at the facility, which was constructed in 1988.
The 'Bordeaux-Paris' track meet, which had been scheduled to take place at the track at Welwyn, will now return to Reading on May 2.
The swift resolution of safety issues in Reading is in stark contrast to the situation at two other outdoor cycling facilities in the UK.
Britain's oldest cycle track at Preston Park, near Brighton, remains closed to competitive events after similar perimeter fencing was also deemed unsafe for racing by British Cycling.
An online campaign to save the track has seen over 5,000 likes on its Facebook page while an e-petition calling on Brighton and Hove Council to complete works to make the track safe received over 4,000 signatures.
The Mountbatten Circuit in Portsmouth remains closed to all forms of cycling after it was deemed unsafe following the death of Richard Phillips-Schofield in March 2014.
Thank you for reading 20 articles this month* Join now for unlimited access
Enjoy your first month for just £1 / $1 / €1
*Read 5 free articles per month without a subscription
Join now for unlimited access
Try first month for just £1 / $1 / €1