Reading's Palmer Park Velodrome deemed unfit for racing by British Cycling
National governing body deems the 459-metre track unsafe for competitive use.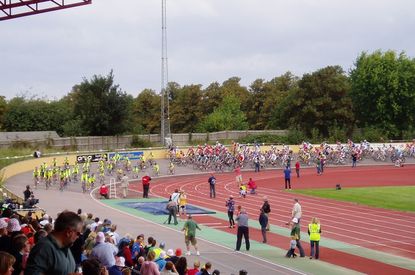 British Cycling has deemed Reading's Palmer Park Velodrome unfit for competitive use because of concerns over the track's safety.
Built in 1988, the 459-metre track is used throughout the year for both competitive events as well as coaching.
However, an independent building condition survey and a BC risk assessment has deemed that the facility – in particular its perimeter fencing – is unsafe to be used for racing.
As a result, BC has said it will not sanction any competitive events at Palmer Park for the forseeable future. Among those to have been affected by this is the Easter Open Meeting, scheduled for Easter Sunday.
A statement from BC read:
"British Cycling is currently reviewing the condition of Palmer Park track with representatives from Reading Borough Council, after an independent survey ruled that it is currently unsafe for hosting formal cycle sport events
"British Cycling appointed an independent building surveyor to undertake a condition survey of the track and its infrastructure after safety concerns were raised. We have also undertaken our own risk assessment and the findings of both reports conclude that, in its present condition the track, surrounds and in particularly the fence are unsafe for hosting formal British Cycling cycle sport events.
"Coaching activity and training are still permitted so long as certain risk management measures are undertaken but competitive cycling will not be sanctioned by British Cycling until improvements are made. We are working closely with the Council, local clubs and event organisers to discuss the recommendations of the reports and how best to progress the required upgrades.
"We do not take these decisions lightly and do so with the safety of participants as the highest priority. Like the hundreds of people in the area who value the facility, we look forward to formal cycle sport events returning to Palmer Park in the near future."
Palmer Park Velo club also released a statement, which revealed that members of the committee and coaching team were "in touch with BC and other relevant parties and have been at the track to assess the situation with the stadium staff."
It continued: "There are some measures that need to be put in place to allow coaching and training to continue and the coaches and the stadium are working to get these done as quickly as possible to minimize disruption to sessions."
A coaching session planned for 8pm tonight is still scheduled to take place.
Reading East MP Rob Wilson is among those who have previously voiced their concerns over the state of the facility.
He told GetReading last November: "It's such a shame that Reading Borough Council has let the Palmer Park Stadium cycle track fall into this state of disrepair.
"Thankfully Palmer Park Velo and Reading Velodrome Racing clubs have undertaken personally to complete the necessary remedial work. This has patched-up the track sufficiently to allow cyclists to continue to enjoy what is clearly a much-enjoyed facility.
"This is not a long-term solution however and in order to ensure the future of the track and the clubs that rely on it, urgent action is required from RBC."
The restrictions forced upon Palmer Park come two months after Preston Park, Britain's oldest cycling track, which was also deemed unsafe for racing by the national governing body.
Built in 1877, the 579-metre circuit remains open for non-competitive events, albeit with one corner closed off because of the deemed safety risk.
Thank you for reading 20 articles this month* Join now for unlimited access
Enjoy your first month for just £1 / $1 / €1
*Read 5 free articles per month without a subscription
Join now for unlimited access
Try first month for just £1 / $1 / €1