Rebellin in denial after CERA positive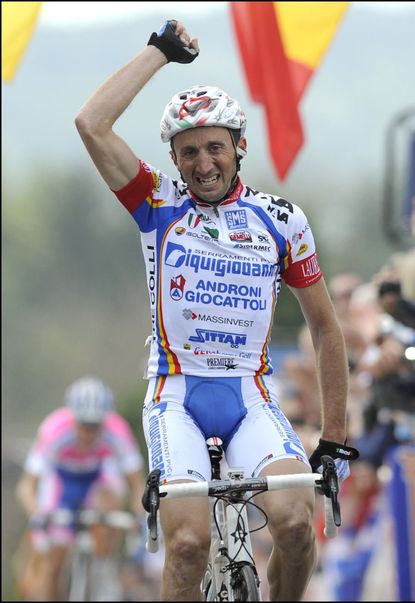 Italy's Davide Rebellin has denied taking CERA and revealed he has already asked for the counter analysis of his urine sample in a desperate attempt to try and clear his name.
The 37 year-old Italian won Fleche-Wallonne last week and was third in Sunday?s Liege-Bastogne-Liege but his long career now seems over after the International Olympic Committee and the Italian Olympic Committee (CONI) announced that he had failed a test taken after he won the silver medal in the road race in Beijing last August.
According to the IOC, further testing of samples for CERA has confirmed seven positive tests from six different athletes. Two from cycling, one from weight lifting and four from athletics, including a gold medal winner. Both the British and Australia Olympic Associations said they have not been notified of any positives involving their athletes.
The news of the failed tests broke on Tuesday evening and the CONI immediately announced one of them was an Italian. The Italian media was tipped off it was Rebellin and the CONI confirmed the news on Wednesday morning.
At Wednesday lunchtime the German Olympic Committee, Stefan Schumacher is the second cyclist to test positive. He first tested positive for CERA during the Tour de France but rode both the time trial and the road race in Beijing before his Tour test results were confirmed. Schumacher has already been banned for two years by the French Anti-doping Agency and the UCI but has always denied doping and recently decided to appeal against his ban.
The Bahrain Olympic Committee has revealed that the gold medal winning track and field athlete who tested positive for CERA is Rashid Ramzi. He is orignally from Marocco but changed nationality to represent the gulf state in Beijing.
UPDATED: REBELLIN:"MY CONSCIENCE IS CLEAR"
Rebellin went into hiding at his home in Monaco but spoke to Italian state television RAI via telephone.
?My conscience is clear. I haven?t take anything.? he said.
?The only thing I want to say is that I?m going to carry on with all my strength to prove that I?m not involved and my prove my innocence regarding these accusations.?
His wife and manager Selina flatly denied her husband had doped when speaking to Gazzetta dello Sport: ?We can?t believe it. Davide?s distraught. He?s here with me and is waiting to speak to the president of the Coni (Italian Olympic Committee). I don?t know what to say. It?d absurd, incredible. Before I pass you Davide I want to try and find out what?s happened.?
When asked if her husband would admit doping, Selina responded strongly: ?Davide hasn?t done anything wrong. We?ve got to stay in control as we face up to what has happened.?
The Italian Olympic Committee president is to make a statement on the case later on Wednesday but the CONI has already suspended Rebellin and summoned him to appear for questioning by anti-doping investigators next Monday.
Rebellin has also been suspended by his Diquigiovanni team, with team manager Gianni Savio saying he was ?shocked and despared? by the positive test but also quickly pointing out that Rebellin rode for Gerolsteiner when he tested positive in 2008.
THE END OF THE ROAD FOR THE ALTER BOY
Rebellin rode for Gerolsteiner team for seven years, the same team as Bernhard Kohl and Stefan Schumacher who both failed doping tests for CERA at last year?s Tour de France.
He first turned professional in 1992 with the MG team and then rode for Polti, Francaise des Jeux, Liquigas and then Gerolsteiner before joining the Diquigiovanni team run by Gianni Savio this year. The little Italian team was claiming to be the most successful team so far this season but now questions will be asked and their place in the centenary edition of the Giro d'Italia could be in doubt.
Rebellin was known as the ?alter boy? because of his quiet nature and strong religious beliefs but had been involved in a doping investigation in 2001 but was cleared when a judge ruled that video evidence, allegedly of him injecting himself in a hotel room, could not be used. The doctor who Rebellin worked with at the time was banned for life. Rebellin was left out of the Italian team for a while but was brought back in 2006.
After winning Fleche-Wallonne, Rebellin said his next big goal was the world title in Mendrisio in September but following the news of his positive test, his career seems to have reached the end of the road.
RELATED LINKS
Rebellin wins Fleche-Wallonne
Davide Rebellin
Thank you for reading 20 articles this month* Join now for unlimited access
Enjoy your first month for just £1 / $1 / €1
*Read 5 free articles per month without a subscription
Join now for unlimited access
Try first month for just £1 / $1 / €1