Record 38 million journeys by bike and train
Brighton has been awarded the title of the train station of the year for cyclists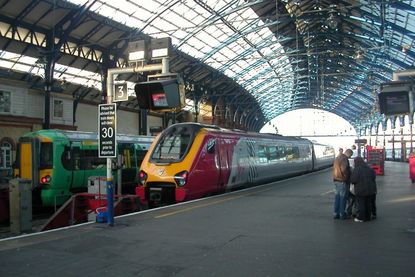 (Image credit: Wikipedia)
A new record has been set as 38 million journeys combining bicycle and train have been made in the UK in the last year.
The rise in the figure is thought to be through more people part-cycling on their work commute, as well as an increased popularity in people taking their bike on a train to reach a riding destination.
The news came at the 2015 National Cycle Rail Awards, which also announced that the number of cycle parking spaces at the country's train stations have increased from 25,000 to 63,000; that number is set to be 75,000 by 2017.
"The record growth in people using cycles as part of their rail journeys during the last year would not have been possible without the dedication, determination and joint working of train operators, Network Rail and our partners both inside and outside the rail industry," said Paul Plummer, CEO of the Association of Train Operating Companies and the Rail Delivery Group.
>>> Sheffield railway station voted the best for cyclists
Robert Goodwill, the transport minister, said: "Travel by bike and train has never been more popular, with the improved cycling provision at railway stations helping passengers make greener choices for longer journeys.
What's the best value bike in 2016?
"Thanks to government spending we have more cycle spaces at stations than ever before and it's great to see how innovative and ambitious the industry can be to encourage even more rail passengers to get on their bikes."
>>> Brompton: The perfect commuting machine?
The All Party Parliamentary Cycling Group-hosted awards, which are judged by cycling stakeholders and campaign groups, named Brighton at the station of the year.
Northern Rail was awarded for its integrated approach to cycling in Greater Manchester; Arriva Train Wales was applauded for its improvement to cycle provision at Chester Railway Station; and British Transport Police were awarded for 'Operation Lock-It'.
£14.5m of Government funding is still to be spent on improving cycle facilities at railway stations, as announced in March.
Thank you for reading 5 articles this month* Join now for unlimited access
Enjoy your first month for just £1 / $1 / €1
*Read 5 free articles per month without a subscription
Join now for unlimited access
Try first month for just £1 / $1 / €1