Ricco leaves Flaminia, plans for Tour de France return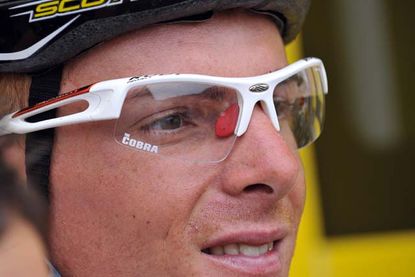 Italian Riccardo Ricco is planning to return to the Tour de France in 2011, the race where he tested positive for EPO in 2008. He is searching for a top-level team to take him there after paying €75,000 to leave team Ceramica Flaminia one year early.
Ricco's last race with the Italian second division team, according to La Gazzetta dello Sport, will be at the GP Camaiore on Saturday.
There are reportedly a few teams interested in signing Ricco. One may even offer him the possibility to race the Vuelta a España.
For a chance to race the Tour de France, Ricco needs sign for a ProTour level team.
He last raced at the ProTour level in 2008 with team Saunier Duval. He won three stages of the Giro d'Italia with the Spanish team, and in 2008 finished second behind Alberto Contador.
Two months later he tested positive for blood booster EPO-CERA at the Tour de France after winning two stages. The French anti-doping agency (AFLD) announced the result mid-race on July 17, after he had won at Super-Besse and Bagnères-de-Bigorre. He subsequently lost his stage wins and served a 20-month suspension.
During the suspension (last June) Ricco signed a contract to the end of 2011 with Ceramica Flaminia. He immediately gave the team wins: a stage in Settimana Lombarda, a stage and second overall behind Alexandre Vinokourov at Giro del Trentino, and two stages and the overall Tour of Austria.
This year's Tour de France saw the return of two riders who were involved in high-profile doping cases: Ivan Basso and Alexander Vinokourov. Basso was part of the 2006 Operacion Puerto investigation and Vinokourov was caught blood doping at the 2007 Tour de France.
Other riders have failed to return to the top of the sport. Michael Rasmussen, who was kicked out of the 2007 Tour de France while wearing the yellow jersey for lying about his whereabouts, has never returned to any descent level of competition.
Thank you for reading 20 articles this month* Join now for unlimited access
Enjoy your first month for just £1 / $1 / €1
*Read 5 free articles per month without a subscription
Join now for unlimited access
Try first month for just £1 / $1 / €1