Riders battle against the elements at the British Mountain Bike Championships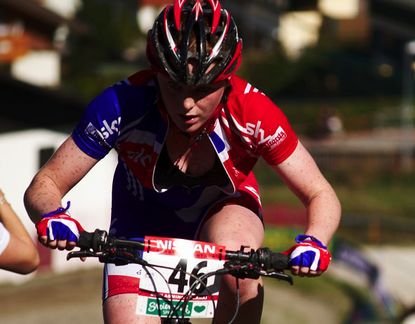 The British National Mountain Bike Championships took place at the weekend. The two races were split between Pippingford in Sussex and Ae Forest in the Scottish borders. The cross-country event was held in
Sussex
while the downhill event endured extremely wet and windy conditions in
Dumfries
.
Steve Peat claimed his ninth National Downhill Championship title following a weekend of eventful racing and Liam Killeen rode to his third victory in the cross-country event.
The elements were out in full force at the National Downhill Championships. Stormy conditions in the Scottish borders turned the abruptly steep and skinny descend into a hazardous mudslide, causing great problems for the riders.
The race against the clock, and the elements, was battled out between 2009 World Champion Steve Peat and 2008 World Champion Gee Atherton.
Atherton was not discouraged by two crashes on his practice run and following a second attempt he went through with the fastest qualifying time.
World Champion Steve Peat had similar problems in his timed seeding run. A bad crash left him with a bloody arm and a last place finish, meaning he had to race as the first man down.
Following his run, a heavily bandaged Steve Peat watched the clock nervously as his main rival, Gee Atherton, took to the hill. However as conditions deteriorated, the advantage of riding a fresh trail meant that no rider was able to challenge Peat's time.
A relieved Steve Peat seemed almost surprised at his victory. The British Champion told British Cycling; "I felt shocking after timed seeding...My season hasn't been good so far by my standard, so to get a championship win now is a big boost and hopefully I can carry that on to Champery and the World Cup."
A disappointed Atherton, who placed second overall, said; "everyone was wanting those stripes and all I wanted was that title - it wasn't about second place today... sometimes you just feel bad and you don't get it together and I guess that's what happened today."
Jess Stone claimed victory in the women's race, making it her best racing result to date.
At Pippingford the race for British Cross-Country Champion came down to two Olympians, Oli Beckingsale and Liam Killeen.
Unfortunately the gripping two-man battle did not last all the way to the line, as Oli Beckingsale suffered transmission problems three laps in. A snapped chain meant that despite an impressive attempt to make up the 5 minutes, Beckingsale was unable to contest Liam Killeen's comfortable victory.
In the women's event Annie Last (19) was never seriously challenged. She led off from the start and maintained the lead to win the senior women's race, finishing 7 minutes ahead of Maddie Horton.
Thank you for reading 20 articles this month* Join now for unlimited access
Enjoy your first month for just £1 / $1 / €1
*Read 5 free articles per month without a subscription
Join now for unlimited access
Try first month for just £1 / $1 / €1