Riis confident in Frank Schleck ahead of Vuelta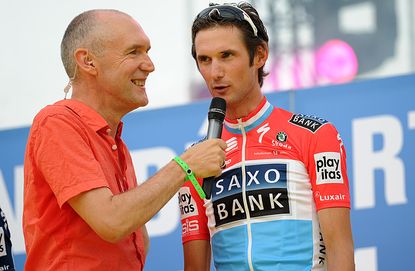 Saxo Bank boss, Bjarne Riis is confident Fränk Schleck will be ready to challenge for the Tour of Spain, starting on August 28. Schleck has raced only once since abandoning the Tour de France on July 6 and his wedding plans force him to miss the Tour du Limousin.
"I have not asked about Frank's start in the Tour du Limousin, that's up to our sports director, Bradley McGee. I know Fränk very well and I don't think he would be very happy to race so close to his wedding," Riis told Politiken.
"It is not ideal for the Vuelta that he has only race one day, and it may mean that he finds it a little difficult at the beginning of the race. But it was Fränk himself, who announced that he wants race for the overall classification in the Vuelta.
"I have full confidence that he'll make sure to be in good shape despite these circumstances. He is experienced enough to know what is required and there's no reason why he would not want to be ready for one of his season's targets."
Schleck abandoned the Tour de France after he collarbone in a crash on the cobbled stage to Arenberg. His brother Andy gained important time that day, which helped him finish second overall to Alberto Contador.
Following surgery, Fränk Schleck returned to race in the Vattenfall Cyclassics on Sunday. It will be his only race prior to the Vuelta a España, August 28 to September 19, since he decided to skip the Tour du Limousin, which starts today and runs through August 20.
Fränk and his wife Martine, who have already had a civil wedding, will marry in a chruch this Saturday, August 21. He will then co-captain Saxo Bank at the Vuelta a España with younger brother Andy.
The Vuelta a España will be their last stage race in Riis' team as they will join a team in their home country of Luxembourg next year. Former Sky press officer, Dane Brian Nygaard will be the team manager with Kim Andersen as head sports director. Riis announced at the start of the month that three-time Tour de France winner, Alberto Contador will replace the Schlecks.
Four the Schlecks' helpers for the Vuelta a España started the Tour du Limousin today: Anders Lund, Stuart O'Grady, Baden Cooke and Gustav Larsson.
Thank you for reading 20 articles this month* Join now for unlimited access
Enjoy your first month for just £1 / $1 / €1
*Read 5 free articles per month without a subscription
Join now for unlimited access
Try first month for just £1 / $1 / €1