Riis says Schleck has a lot to learn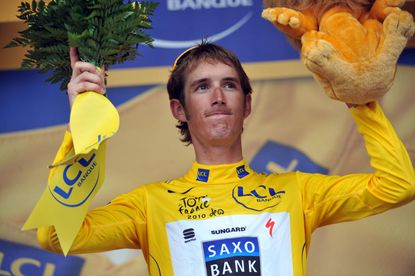 The arrival of Tour de France champion Alberto Contador next year at Saxo Bank could not come at a better time for team owner Bjarne Riis. Riis criticised his outgoing star rider, Andy Schleck, for being wild and not serious.
"He still has a lot to learn," Riis told Spain's El País newspaper. "I think that what has happened here in the Vuelta, has taught him a lot."
Riis sent home Andy Schleck and team-mate Stuart O'Grady for staying out late and drinking alcohol the night before the Vuelta a España's 10th stage. They returned to the team's hotel in Tarragona, Spain, at 1:00 or, according to some media, as late as 5:00. They were at the Vuelta a España to support Andy's brother, Fränk, who is currently 10th overall.
Andy Schleck was the only rider to rival Alberto Contador at the Tour de France in July. After a close battle, he finished in second place to Contador by 39 seconds.
Four days after the race, Schleck announced that he and his brother will join a new team in their home country of Luxembourg at the end of the year. Five days later, August 3, Riis announced he signed Spain's Contador for two years, 2011-2012. He told El País that he started negotiations with Contador's agent and brother, Fran, before the Tour de France.
Riis is anxious to start working with the three-time Tour de France winner.
"Contador always gives his maximum in all the races he participates, while Andy, as we have seen here in the Vuelta, has a completely different mentality," added Riis.
"We cannot demand that all riders are alike, have the same lifestyle, and we must respect everyone for who they are. Andy is not Contador and vice versa. They are two different persons. Alberto is a bit more serious, Andy a bit younger and wilder.
"I cannot say yet whether it will be easier to work together with Alberto, but it is clear that he has other traits. However, I must first properly get to know him so I can figure out how I can best help him. We will tackle in the coming months."
Contador has finished his season and travels to Las Vegas next week to attend Interbike, a bicycle trade show. Schleck announced last week that his last races this season will be a series of one-day Italian races, ending with the Giro di Lombardia on October 16. The race will conclude six years at Bjarne Riis' team.
Related links
Schleck ready to leave current boss, Riis
Riis risks losing Schleck brothers to new Luxembourg team
Riis welcomes Contador and Saxo Bank's continuation
Vuelta a Espana 2010: Cycling Weekly's coverage index
Thank you for reading 5 articles this month* Join now for unlimited access
Enjoy your first month for just £1 / $1 / €1
*Read 5 free articles per month without a subscription
Join now for unlimited access
Try first month for just £1 / $1 / €1