Sarah Storey misses Hour Record by 563m
45.502km ride at Lee Valley Velo Park in London breaks Paralympic, British and Masters records. Photos by Andy Jones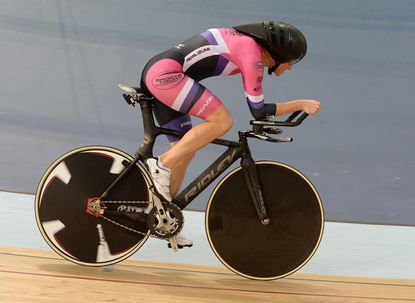 (Image credit: Andy Jones)
Dame Sarah Storey has fallen just short in her attempt to set a new women's Hour Record, completing 45.502km and falling short of the existing mark by 563m.
Although missing out on the overall record, Storey did set new British, Paralympic and masters standards.
Riding at Lee Valley Velopark in London, Storey set off a solid pace, but by 20km she was down by 0.779s against the world record. She looked technically strong throughout but split times slipped as the hour progressed and she was left with too much to do despite a brave burst of speed in the final minutes.
The previous record was 46.065km, set by Leontien van Moorsel in Mexico City in 2003.
Speaking after the attempt, Storey said: "It was definitely the hardest hour of my life. It was the furthest I could possibly have gone. I said I'd do my best, and it's not as far as Leontien, but to miss out to her is no bad thing."
Dame Sarah Storey will ride a black Ridley Arena machine on February 28, with a few adjustments made to her
Storey began her sporting career as swimmer, picking up her first Paralympic medal in 1992 as a 14 year old, but since turning her attention to cycling in 2005, she has equalled the records of Tanni Grey-Thompson and Dave Roberts as Britain's most successful Paralympians.
Interest in the Hour Record has skyrocketed since the UCI announced a change in the rules last year, allowing riders to use aerodynamic bikes and equipment. Jens Voigt set a new mark for men in September, with Matthias Brändle and current record-holder Rohan Dennis subsequently going even further.
Thank you for reading 20 articles this month* Join now for unlimited access
Enjoy your first month for just £1 / $1 / €1
*Read 5 free articles per month without a subscription
Join now for unlimited access
Try first month for just £1 / $1 / €1