Scarecrow of Brent Bookwalter crashing into parked car at Tour of Britain gets thumbs up from recovering rider
BMC Racing rider sees the funny side of his crash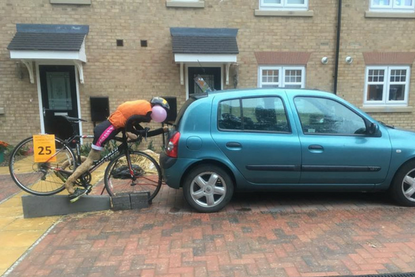 (Image credit: Rebecca Mowbray/Facebook)
A scarecrow of Brent Bookwalter crashing into the back of a parked car at the Tour of Britain has received the approval of the American rider as he sees the funny side of his nasty crash.
Bookwalter, who is currently recovering from concussion sustained in the crash, was sent a photo of the scarecrow by Rebecca Mowbray, whose family live in Retford - where the crash took place - and had created it for the Ordsall Scarecrow Festival last week.
Lincolnshire Live reports how, after receiving a few negative comments about her family's scarecrow, Rebecca sought to get in touch with the recovering rider to get his personal approval, and to her surprise received a reply.
>>> Brent Bookwalter in 'stable and non-critical' condition after crashing into parked car at Tour of Britain
Although Bookwalter was unable to reply personally due to his concussion, his wife Jamie got in touch to ask to see a photo of the scarecrow version of her husband, who gave it his approval and described it as "hilarious, funny, and disturbing at the same time".
The bad news for the Mowbray's is that their effort wasn't enough to win them a prize in the scarecrow competition, but Rebecca took solace in the fact that her photo received more than 1,000 likes on Facebook.
Thank you for reading 20 articles this month* Join now for unlimited access
Enjoy your first month for just £1 / $1 / €1
*Read 5 free articles per month without a subscription
Join now for unlimited access
Try first month for just £1 / $1 / €1