Schleck ready to leave current team boss, Riis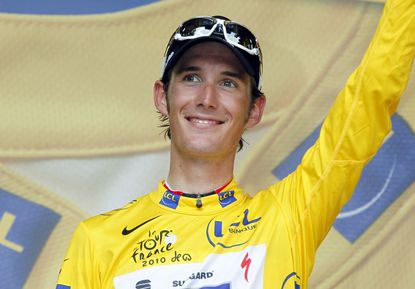 Luxembourg's Andy Schleck finished second at the Tour de France in the last two years with Bjarne Riis' team, but said that he knows it is time to change teams.
"I wanted to leave. Even if the team did not come about in Luxembourg, I would have gone anyway. At a certain moment in life, you have to make decisions," Andy Schleck told Luxembourg's Le Quotidien newspaper.
"I was not always happy with what I had. I do not want to speak ill of Bjarne and I never will. I have too much respect for him. Our relationship will continue to be a good one, even if next year we will be opponents."
Schleck announced only days after finishing second to Spain's Alberto Contador at the Tour de France that he and his brother Fränk will leave Riis' team. Two weeks ago, they confirmed their places on a new team based in their home country of Luxembourg. Team Sky's and Riis' former press officer, Brian Nygaard will be the team manager and Kim Andersen will be the head sports director.
Andy leaves Riis after five years and Fränk after eight. Besides two second places at the Tour de France, Andy won Liège-Bastogne-Liège last year. Fränk twice finished fifth overall at the Tour de France, won the Tour de Suisse this year and the Amstel Gold in 2006.
Details on the Schlecks' new team are still scarce, but Nygaard explained earlier this month that funding is partly coming from Luxembourger Flavio Becca, a real estate investor. Nygaard is busy establishing the team and making sure the pieces are in place to receive a first division licence. There are 14 teams vying for eight licences, which will be awarded by the UCI on November 20. .
"I am anxious to be there. For our country, this is something great. Really inspirational. I am some certain that the team will be a very good one. And besides, we would not have switched just to ride for a second division team, even if in Luxembourg," continued Andy Schleck.
"Brian is a great guy, we get on very well. We get on very well with both [him and Kim Andersen - ed.]. But for now, we are also happy to finish the season with Team Saxo Bank, our team for 2010."
Andy and Fränk lead Saxo Bank at the Vuelta a España starting tomorrow in Sevilla, Spain. Despite just finishing second the Tour de France, Andy will support for Fränk as the team leader.
Related links
Riis risks losing Schleck brothers to new Luxembourg team
Riis welcomes Contador and Saxo Bank's continuation
Vuelta a Espana 2010: Cycling Weekly's coverage index
Thank you for reading 20 articles this month* Join now for unlimited access
Enjoy your first month for just £1 / $1 / €1
*Read 5 free articles per month without a subscription
Join now for unlimited access
Try first month for just £1 / $1 / €1