Sportive to link with National Road Race Championships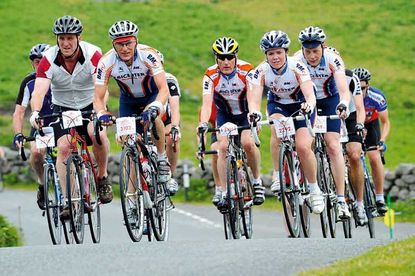 The National Road Race Championships will be linked for the first time next year with a sportive running the day before the main event on June 25.
The inaugural National Cyclo-Sportive, which replaces the former Pendle Pedal event, is based largely on the same course upon which the next day Britain's top cyclists will battle for the hallowed national champion's jersey.
The ride features many of the same climbs that will be used in the road race, including Waddington Fell, Tatham Fell, Bowland Knotts, the Trough of Bowland and the Nick of Pendle totalling over 3,500 metres of climbing.
To add a little authenticity, riders will start and finish under the official gantry to be used the following day.
Ian Wilkinson plans to ride the event as a warm-up for the main event on Sunday: "The possibility of winning a national title on my home roads is really motivating. 2009 has been a breakthrough year for me and the prospect of racing the National Championships in Lancashire is really exciting.
"I will also plan to ride part of the National Cyclo-Sportive as my warm up. It's a stunning route and I look forward to riding it with hundreds of other cyclists," said Wilkinson.
Four feed stations, route marshalling, bike mechanics and chip timing are all included in the £25 entry fee.
Two routes are available: 100 miles and a shorter 60-mile version.
See www.pennineevents.co.uk for more information. Entries open on January 11 2010.
Thank you for reading 20 articles this month* Join now for unlimited access
Enjoy your first month for just £1 / $1 / €1
*Read 5 free articles per month without a subscription
Join now for unlimited access
Try first month for just £1 / $1 / €1