Swift adds extra focus to Hope Valley Cycle Route Campaign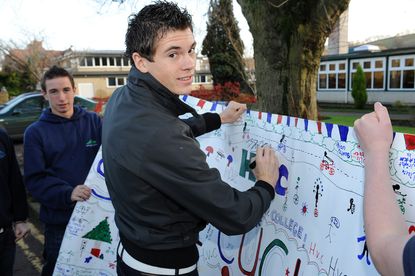 Tour of Britain stage winner Ben Swift (Katusha) joined the pupils and staff at Hope Valley College in the Derbyshire Peak District on Friday December 4 to add extra focus in their campaign to have a cycle route through the Hope Valley.
Steve Taylor of the college's science department and Steve Bond the community education co-ordinator have been leading the campaign. They have had discussions with Derbyshire County Council's Countryside and Greenways Officer, Wayne Bexton to advance the proposals of a 'Greenway' route through the Hope Valley.
The proposed route would safely connect the villages of Hathersage, Hope and Castleton down what is a busy road route through this popular area of the Peak District. The road does have a cycle lane from Hathersage to Brough near Hope but having a 'Greenway' would safely separate cyclists and horse riders off the main road and would make for a more user-friendly route for the college children, locals and Peak District visitors to travel by bike along the valley.
The previous week, the students at Hope Valley College had been visited by local MP Tom Levitt to coincide with their organised action day. With various cycling activities taking place on the day there was a mass letter writing and poster making effort organised by Margaret Hayes the Head of English at the college. The pupils letters will be forwarded to the County Council to help strengthen the case for the project to go ahead.
"The route will hopefully be designed in March 2010 and will only connect Castleton to Hathersage at this stage." said Steve Taylor. "We would like to make sure that the route is completely off road and they put the money in to that ideal and don't make cuts in it as a soft option. We would also like some commitment from the powers that be to be able to have the ability to have other routes from nearby villages connecting in to this initial route."
Richard Beeden from the design and technology department and Ruth Cook from the physical education department have also been involved with the project and have been dealing in the community side of how cycling can be integrated to benefit local people.
The college already runs coaching sessions on Monday evenings and will look to being able to offer bike maintenance sessions in conjunction with the local bike shop '18 Bikes' in the future.
Away from his appearance at the college, Swift has been at the centre of conflicting rumours regarding which team he will be riding for in 2010. His current team, Katusha, say he's contracted until the end of 2010, but his name appeared on Team Sky's line-up for the Tour Down Under in January.
Swift joins students at Hope Valley College to talk about cycling and the proposed 'Greenway' cycle route
Swift with students of Hope Valley College showing the letters that will be sent to the local council
Related links
Swift names in Sky's Tour Down Under team
Thank you for reading 20 articles this month* Join now for unlimited access
Enjoy your first month for just £1 / $1 / €1
*Read 5 free articles per month without a subscription
Join now for unlimited access
Try first month for just £1 / $1 / €1