THE FLYING SCOTSMAN IN CINEMAS FROM JUNE 29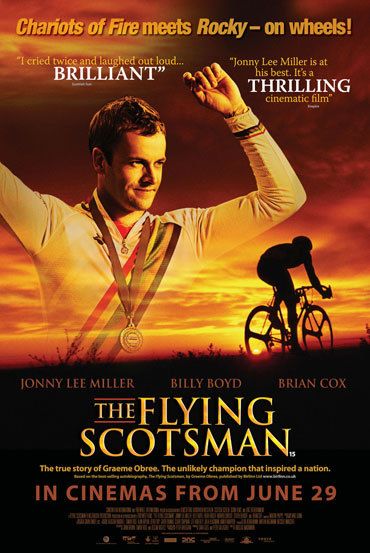 Click here to view the Flying Scotsman trailer (for Quick Time). (opens in new tab)
Click here to view the Flying Scotsman trailer (for Windows Media Player). (opens in new tab)
The Flying Scotsman, the full-length film starring Jonny Lee Miller as Graeme Obree, the former World Hour record breaker and double world champion, goes on general release in the UK on June 29.
It?s a must, say Cycling Weekly, after seeing a special screening. The story line remains faithful to the facts of this amazing period when a raw Scottish amateur on a home-made bike shook the sporting world in 1993 by breaking the most coveted cycling record on the books, Francesco Moser?s Hour record. And then, over the next two years, as Obree battled with manic depression, he proceeded to knock six bells out of the pros on the track.
If you didn't know it was all true, you might not believe it. Lee Miller, who made his international name in ?Trainspotting?, makes an excellent Obree. He?s of similar build for a start. Fit, too ? he runs Marathons and makes a convincing racing cyclist.
And he?s got all of Obree?s amusing mannerisms. He also captures Obree?s dark side. Actress Laura Fraser plays Graeme?s wife, Anne.
Just as Jonny became Graeme on the bike, so Laura became Anne, especially at the trackside when bellowing at Graeme to urge him on.
Says Miller: ?Graeme is a very kind man who opened up his heart to us. He also gave great encouragement to me with the psychological parts as well as the physical. He was invaluable to the props department in dealing with all the bikes and was a true joy to have around.?
Click here to view the Flying Scotsman trailer (for Quick Time). (opens in new tab)
Click here to view the Flying Scotsman trailer (for Windows Media Player). (opens in new tab)
Thank you for reading 10 articles this month* Join now for unlimited access
Enjoy your first month for just £1 / $1 / €1
*Read 5 free articles per month without a subscription
Join now for unlimited access
Try first month for just £1 / $1 / €1
Keith Bingham joined the Cycling Weekly team in the summer of 1971, and retired in 2011. During his time, he covered numerous Tours de France, Milk Races and everything in-between. He was well known for his long-running 'Bikewatch' column, and played a pivotal role in fighting for the future of once at-threat cycling venues such as Hog Hill and Herne Hill Velodrome.