Tour Series: Wilkinson wins in Peterborough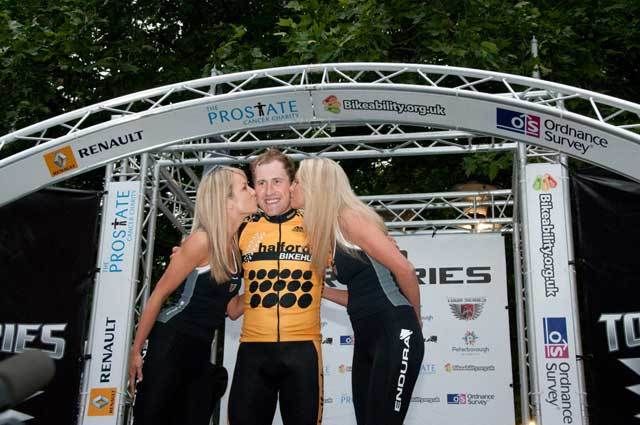 Tour Series, Peterborough round 4 photo gallery, by Paul Watson>>

Round four of the Tour Series ended in triumph for Halfords' Ian Wilkinson, who edged out Candi TV's Russell Downing in a furious finale on the streets of Peterborough.
It completed a memorable night for a resurgent Halfords team, who won the team prize, with Rob Hayles and Ed Clancy also placed in the top six.
"Beating Russell Downing is always a scalp", Wilkinson told Cycling Weekly, "but to win the team prize couldn't have been better."
With two laps to go, Halfords sent all five of their team to the front of the race, a show of strength which sent out a message that after three mediocre showings, their team will still have a say in the final destination of the Tour Series.
Candi TV-Marshalls Pasta, however, also had three riders in the top six, with Graham Briggs and Malcolm Elliott in fourth and fifth. That result puts them back on top of the overall standings. They lead by a single point, taking over from Rapha-Condor who drop to third, level on points with Madison.co.uk (formerly known as Plowman Craven).
Russell Downing also won two of the intermediate sprint to take the Sprint Prize on the night, for once eclipsing his brother Dean, who after two back to back wins rode a conservative race, finishing in eighth place.
Next week the Tour Series moves on to Blackpool on Tuesday night, and Southport two days later.
You can watch highlights of the Peterborough round of the Tour Series on ITV4 at 7pm on Friday, June 5
Individual results: Round 4, Peterborough
1. Ian Wilkinson (Halfords-Bikehut)
2. Russell Downing (Candi TV-Marshalls Pasta)
3. Ed Clancy (Halfords-Bikehut)
4. Graham Briggs (Candi TV-Marshalls Pasta)
5. Malcolm Elliot (Candi TV-Marshalls Pasta)
6. Rob Hayles (Halfords-Bikehut)
7. Tony Gibb (Madison.co.uk)
8. Dean Downing (Rapha–Condor)
9. Stephen Adams (Madison.co.uk)
10. Jeroen Janssen (Madison.co.uk)
Team results: Round 4, Peterborough
1. Halfords-Bikehut
2. Candi TV–Marshalls Pasta
3. Madison.co.uk
4. Rapha–Condor
5. Sigma Sport Cycling Team
6. Endura Racing
7. www.cyclingbargains.com
8. Team Corley Cycles
9. Sports Beans–Wilier
10. BMC UK Racing Team
Team standings after Round 4
1. Candi TV–Marshalls Pasta
2. Madison.co.uk
3. Rapha-Condor
4. Halfords Bikehut
5. Sigma Sport Cycling Team
6. Sports Beans–Wilier
7. Team Corley Cycles
8. BMC UK Racing Team
9. www.cyclingbargains.com
10. Endura Racing
Peterborough plays host to stage four of the fast moving series
Ian Wilkinson wins round four, helping his Halfords team take the honours
Candi TV-Marshalls Pasta take control overall
RELATED LINKS
Tour Series, Peterborough round 4 photo gallery, by Paul Watson
Tour Series round 4 preview
Downing claims second Tour Series win in Woking
Tour Series, Exeter - photo gallery by Paul Watson
Dean Downing wins in Exeter
Briggs wins first round of Tour Series
Cycling Weekly British team profiles
Premier Calendar
EXTERNAL LINKS
Tour Series: www.tourseries.co.uk