UCI World Championships 2009: Men's TT start list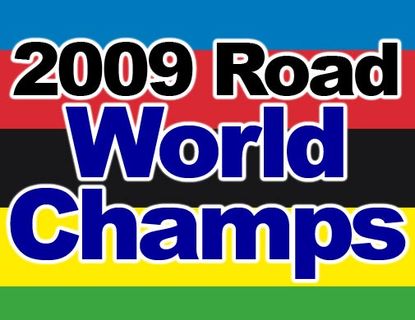 The UCI Road World Championships 2009 in currently underway in Mendrisio, Switzerland, where the cream of professional road cyclists battle it out for the right to wear the coveted rainbow jersey for a year.
On Thursday, September 24, it's the turn of the elite men to test themselves against the clock in the individual time trial.
The 49.8km race sees the elite male riders traverse three laps of an undulating 13.8 kilometre circuit.
Defending world time trial champion Bert Grabsch (Germany) goes off last at 3.43pm local time, with pre-race favourite Fabian Cancellara (Switzerland) off just before him at 3.42pm.
All quoted times are local time, subtract one hour for British time.
| | | | | |
| --- | --- | --- | --- | --- |
| No. | Start time | Surname | First name | Country |
| 66 | 11:30 | WEEKES | James | SKN |
| 65 | 11:31 | RISSANEN | Jarmo | FIN |
| 64 | 11:32 | CADOR | Rida | HUN |
| 63 | 11:33 | SERPA PEREZ | Jose Rodolfo | COL |
| 62 | 11:34 | SAMOILAU | Branislau | BLR |
| 61 | 11:35 | WURF | Cameron | AUS |
| 60 | 11:36 | POP | Gabriel Sorin | ROU |
| 59 | 11:37 | PERAUD | Jean-Christophe | FRA |
| 58 | 11:38 | PAULINHO | Sergio Miguel Moreira | POR |
| 57 | 11:39 | MEDICI | Matias | ARG |
| 56 | 11:40 | MADARAS | Zoltan | HUN |
| 55 | 11:41 | HUZARSKI | Bartosz | POL |
| 54 | 11:42 | GUTIERREZ PALACIOS | José Ivan | ESP |
| 53 | 12:30 | DOUGLAS | Reginald | SKN |
| 52 | 12:31 | WACKER | Eugen | KGZ |
| 51 | 12:32 | RAGONESSI | Jose | ECU |
| 50 | 12:33 | THOMSON | Jay Robert | RSA |
| 49 | 12:34 | GAZVODA | Gregor | SLO |
| 48 | 12:35 | POLIEVKA | Pavol | SVK |
| 47 | 12:36 | NOVAK | Eduard | ROU |
| 46 | 12:37 | NAZARET | Magno Prado | BRA |
| 45 | 12:38 | MCCANN | David | IRL |
| 44 | 12:39 | ZIRBEL | Tom | USA |
| 43 | 12:40 | KORTS-LAUR | Ervin | EST |
| 42 | 12:41 | LOPEZ MARIN | Juan Carlos | COL |
| 41 | 12:42 | BERTOGLIATI | Rubens | SUI |
| 40 | 13:30 | HOFFMANN | Erik | NAM |
| 39 | 13:31 | HELMINEN | Matti | FIN |
| 38 | 13:32 | HANSEN | Adam | AUS |
| 37 | 13:33 | COPPEL | Jerome | FRA |
| 36 | 13:34 | GARRIDO MAYORGA | Martin | ARG |
| 35 | 13:35 | FROOME | Christopher | GBR |
| 34 | 13:36 | ERICSSON | Fredrik | SWE |
| 33 | 13:37 | BAK | Lars Ytting | DEN |
| 32 | 13:38 | VENNELL | Jeremy | NZL |
| 31 | 13:39 | COBO ACEBO | Juan Jose | ESP |
| 30 | 13:40 | MOERENHOUT | Koos | NED |
| 29 | 13:41 | BODNAR | Maciej | POL |
| 28 | 13:42 | KASHECHKIN | Andrey | KAZ |
| 27 | 14:30 | BELOHVOSCIKS | Raivis | LAT |
| 26 | 14:31 | GRABOVSKYY | Dmytro | UKR |
| 25 | 14:32 | LANG | Sebastian | GER |
| 24 | 14:33 | VELITS | Martin | SVK |
| 23 | 14:34 | CORNU | Dominique | BEL |
| 22 | 14:35 | GRIVKO | Andriy | UKR |
| 21 | 14:36 | OVECHKIN | Artem | RUS |
| 20 | 14:37 | KONOVALOVAS | Ignatas | LTU |
| 19 | 14:38 | MACHADO | Tiago | POR |
| 18 | 14:39 | RASMUSSEN | Alex | DEN |
| 17 | 14:40 | KIRYIENKA | Vasil | BLR |
| 16 | 14:41 | PINOTTI | Marco | ITA |
| 15 | 14:42 | SARAMOTINS | Aleksejs | LAT |
| 14 | 15:30 | DANIELSON | Thomas | USA |
| 13 | 15:31 | IGNATIEV | Mikhail | RUS |
| 12 | 15:32 | BOOM | Lars | NED |
| 11 | 15:33 | VINOKOUROV | Alexandre | KAZ |
| 10 | 15:34 | BRAJKOVIC | Janez | SLO |
| 9 | 15:35 | BOASSON HAGEN | Edvald | NOR |
| 8 | 15:36 | RABON | Frantisek | CZE |
| 7 | 15:37 | TUFT | Svein | CAN |
| 6 | 15:38 | ROSSELER | Sébastien | BEL |
| 5 | 15:39 | MARTIN | Tony | GER |
| 4 | 15:40 | WIGGINS | Bradley | GBR |
| 3 | 15:41 | LARSSON | Gustav | SWE |
| 2 | 15:42 | CANCELLARA | Fabian | SUI |
| 1 | 15:43 | GRABSCH | Bert | GER |
Road World Championships 2009: Related links Road World Championships 2009: Cycling Weekly's full coverage index
News
Pooley disappointed with 11th in time trial
Ellingworth explains Cavendish withdrawal from Worlds
Dowsett happy with world-class rinde in under-23 TT
Manning praises Dowsett after Worlds TT ride
It's Cavendish or Stannard for final worlds place
Great Britain names world championships team
Millar won't ride worlds time trial despite Vuelta win
Wiggins quits Tour of Britain to focus on worlds TT
Out of sorts Cooke abandons Tour de l'Ardeche
Cavendish keen to ride worlds despite illness
Millar set to lead GB road race team at the Worlds
Brits head home to fight for worlds places
Reports
Under-23 Men Time Trial
Women's and under-23 men's time trials as they happened
Photos
Women's Time Trial gallery by Graham Watson
Under-23Men Time Trial gallery by Graham Watson
External links
Road World Championships 2009 official website
Union Cycliste Internationale website
Thank you for reading 5 articles this month* Join now for unlimited access
Enjoy your first month for just £1 / $1 / €1
*Read 5 free articles per month without a subscription
Join now for unlimited access
Try first month for just £1 / $1 / €1