UK riders give thumbs up to Milton Keynes World Cup Cyclo-Cross
Nikki Harris, Helen Wyman, Ian Field and Gabby Durrin give their verdict on Milton Keynes' World Cup Cyclo-Cross races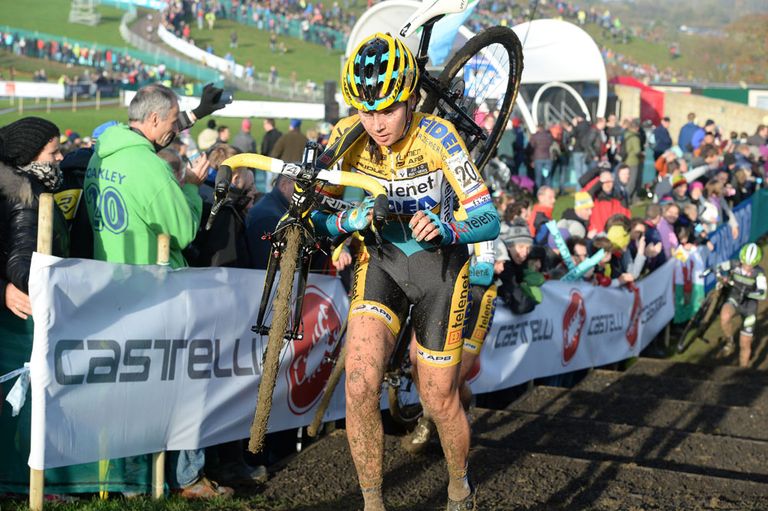 (Image credit: Andy Jones)
Words by Maria David
British riders were thrilled at the turnout and the organisation at the first ever World Cup Cyclo-Cross race in the UK, and were able to draw motivation from the massive crowd support.
This was much needed for the riders who battled through the tough course. For some riders like Helen Wyman (Kona Factory Racing) and Ian Field (Hargroves Cycles), it was an emotional day.
Wyman, who finished 8th in the women's race after struggling and falling a number of times on the off-camber descents was very gracious and took the time to acknowledge the spectators on the stage.
"It was goosebumps all the way round. I never imagined I would have this experience of so many people cheering me on in my home World Cup race. Thank you, thank you, thank you!"
For Ian Field, who finished an impressive 12th in the men's race, this was a culmination of many years' hard work and sacrifice, and was so happy to have been able to give a great performance in front of his family and friends.
In an emotional speech he said: "I really couldn't have done it without you. This means so much to me. I gave it all I had. I really tried hard to deliver today and give something back. I'd like to thank everyone, especially my mum, my girlfriend, all of my family, and my team."
Field didn't have any particular tactic for the tough conditions and relied on keeping calm, getting the power out in the right places and not leave anything in the tank.
Nikki Harris (Telenet-Fidea), who finished in third place, really enjoyed the hard course and drew a lot of motivation from the crowd support.
"I just kept thinking, 'keep pushing, keep pushing,'" said the rider from Derbyshire. "I thought I could catch Sanne [Cant] and Katie [Compton] towards the end because it was such a heavy-going course that they would slow down. But there were two of them and they were working together and pushing each other whereas there was one of me and it was hard to bridge the gap on my own.
"I really enjoyed the race. It was an honour to race here. Simon Burney and the guys have done a great job in putting this on."
Gabby Durrin, who has been based in the US for the last eighteen months, saw this as a great occasion for her to return to the UK and race on a World Cup standard course.
The Neon Velo rider said: "It had a fast road start, with a right-hand off-camber corner that was very slippery. There was then a run-up and when you hopped back on your bike the next section was very tricky with people sliding and crashing everywhere. I had to try and avoid crashing or being held up too long behind people crashing around me. It was crazy!"
Gabby was pleased with her 19th place finish and acknowledged the crowd support. "It was amazing, like in a World Championships. Even if you had a bad day people were still cheering you on. It was really nice."
More on the Milton Keynes Cyclo-Cross World Cup