'US Cycling is not in a crisis, but a transitional phase'
Newly retired American rider Tyler Farrar talks about the current state of cycling in the USA, and the perceived lack of top-level riders in the WorldTour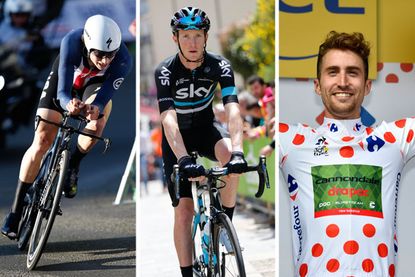 (Image credit: Yuzuru Sunada)
United States cycling is not in a crisis, but in a 'transitional phase' and ready to produce another generation of stars, says recently retired American rider Tyler Farrar.
Farrar won stages in all three Grand Tours and pulled the plug on a long career this month. He was one of the few current stars of a country now ranked 19th.
"It is a bit of a transitional phase for American cycling," Farrar told Cycling Weekly from home in Washington.
"I think there are many talented guys coming up but they're not quite ready so we are in an in-between phase."
US Cycling appeared improving year after year from the 1980s. Andy Hampsten and Greg LeMond led the way with Grand Tour wins.
>>> Tyler Farrar announces retirement from professional cycling
Lance Armstrong ushered in a new popularity, but also rocked many of the supporting structures when investigators showed that he doped his way through his seven Tour de France wins.
"Cycling has taken some hits in the last few years. When I was a young middle-of-the-pack pro, American cycling was healthy as it has ever been but between what went down with Lance and what went down with the whole crew with the guys who were suspended from the US Postal Service days, it was a big blow to American cycling in general.
"The hunger for American riders diminished a bit across the world, but I like to think we are moving past that now. The guys now on the peloton have nothing to do with that generation but in some respects they're still paying for those sins but as we get further down the road and further away from that hopefully that will go away."
The new guys include Neilson Powless, Logan Owen and Adrien Costa. They are racing partly with the US national team and with Axel Merckx's Axeon Hagens Berman team.
"Costa is only 20, but they need more time. But guys like him, Logan Owen and every kid on that Axeon on team. There are definitely some talented up and comers, but unfortunately it has been a bit of a dry spell for American cycling."
>>> Promising American rider Adrien Costa decides to take 'leave of absence' from cycling
With very few top WorldTour American riders, the points fail to add up and the nation is ranked lowly, below countries including Denmark, Switzerland and the Czech Republic.
Despite three US-registered WorldTour teams, going down the UCI World Ranking of top American cyclists you quickly come across riders racing with second division teams and mostly racing Stateside: Travis McCabe, ranked fourth, Joey Rosskopf, sixth.
"Yes sure we have three registered teams, but how many Americans are on those teams! The teams are so international these days," Farrar continued.
"I hope just until next season!" he added when asked when asked how long do fans need to wait until the situation changes.
"There definitely guys who have potential who are out there. Tejay van Garderen looks back and Taylor Phinney looks better. Alex Howes has shown some good form lately. And we have the younger guys like Alexey Vermeulen who is finding his feet at the WorldTour level.
"We'll see if changing teams will be the thing that Ian Boswell needs to have a bigger breakthrough. I think in the Sky mould, unless you're Chris Froome or someone like that, you basically fall right to the worker's role immediately. Maybe there's potential with the team change that he will have the chance in a bit more freedom."
Farrar is only 33, but he said that he picked the right time to retire. At home, a baby is on the way this winter and will require much of his attention.
"I didn't feel like I was on the same level that I had been on and that I needed to be on. By mid-season I started speaking to the team, Dimension Data. Even if I had another year in my contract, I told them that I didn't feel that it was going that well," he said.
"If I thought that I was still on a good level then I probably would have done another year but I didn't want to be the guy who sticks around for too long."
Thank you for reading 20 articles this month* Join now for unlimited access
Enjoy your first month for just £1 / $1 / €1
*Read 5 free articles per month without a subscription
Join now for unlimited access
Try first month for just £1 / $1 / €1