Valverde set to be banned from racing in Italy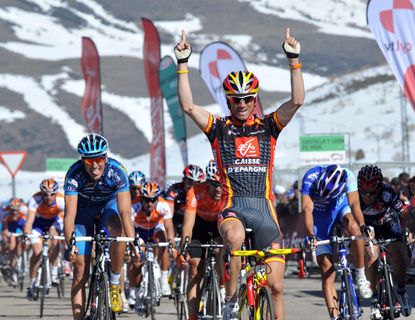 The Italian National Olympic Committee (CONI) says it has matched Alejandro Valverde's blood samples taken during the Italian section of last year's Tour de France to blood bags recovered in Operacion Puerto in 2006.
Italian anti-doping prosecutor Ettore Torri has called for a two-year ban for Valverde. Torri said in February: "We can say with certainty blood sachet number 18 is Valverde's".
Valverde has denied any involvement at all with Operacion Puerto.
Despite more stringent doping controls in and out of competition, riders are still using banned substances and doping techniques. Yesterday, former Gerolsteiner professional Bernhard Kohl admitted to blood doping and using banned blood-bosting drug CERA, a form of EPO. Kohl is currently serving a two-year ban from competition after testing positive for CERA at the 2008 Tour de France.
RELATED LINKS
Alejandro Valverde: Rider Profile
Comment: End this Valverde farce
March 25, 2009: Valverde wins stage 3 of Castilla y Leon
February 12, 2009: Valverde fights back over Puerto accusations
July 5, 2008: Is Valverde's win a good thing for the Tour de France?
January 11, 2008: Valverde back in anti-doping spotlight (again)
September 25, 2007: Valverde cleared by Puerto judge
September 18, 2007: UCI says it has new information on Valverde
August 30, 2007: Valverde expected to hand over DNA sample
August 30, 2007: Valverde banned from Worlds
Thank you for reading 20 articles this month* Join now for unlimited access
Enjoy your first month for just £1 / $1 / €1
*Read 5 free articles per month without a subscription
Join now for unlimited access
Try first month for just £1 / $1 / €1