Vande Velde crashes out of Giro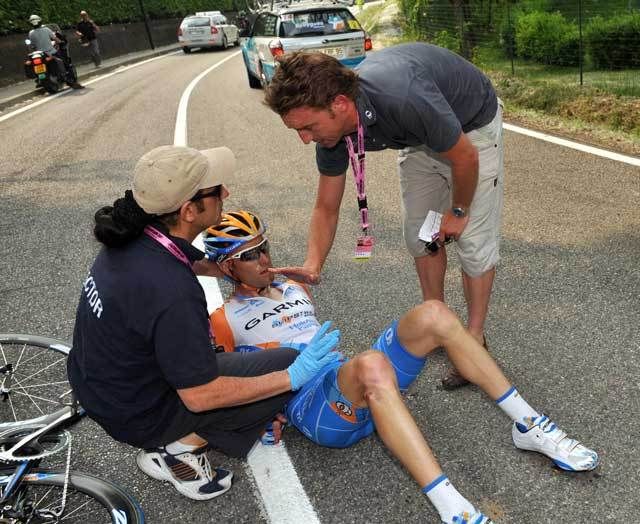 Stage reports
Stage three: Cavendish loses pink jersey after being caught behind late crash
Stage two: Petacchi denies Cavendish the stage win
Stage one: Cavendish in pink as Columbia prove their point to Garmin
Photo galleries
News
Petacchi claims he didn't know of Cavendish crash
Cavendish struggles to find consolation in pink jersey
Petacchi: I've been working out how to beat Cav
I'm wearing pink on behalf of the team, says Cavendish
Wiggins ready to win Giro team time trial
Friday, May 8: Giro news round-up
Cavendish out to topple Garmin in Giro team time trial
Team time trial start times
Cycling Weekly's Giro d'Italia top ten prediction
Brits in Venice for Giro presentation
Armstrong overshadows overall favourites at Giro presentation
Armstrong confident of finding new sponsor for Astana
Armstrong working to save Astana team
Wiggins in top form for Giro
Garmin Slipstream kitted out for Giro opener
Dan Lloyd gets late Giro call-up
Armstrong's special Giro bikes unveiled
Daniel Lloyd overlooked for Giro ride
Cummings and Thomas not selected for Giro d'Italia
Cavendish tests Giro form at Tour of Romandie
David Millar confirms he's riding in 2009 Giro
Bennati to take on Cavendish in Giro 2009 sprints
2009 Giro d'Italia to start in Venice
Evans and Silence-Lotto disagree on Giro 2009 ride
Armstrong to ride 2009 Giro
Tuttosport reveals 2009 Giro d'Italia route
Dolce & Gabbana design new Giro jersey
2009 Giro d'Italia guide and features
Find the pink jersey competition
Giro d'Italia 2009: The Big Preview
British riders to have led the grand tours
CW's Giro top ten prediction
Brits in the Giro 2009
Brits in the Tours: From Robinson to Cavendish
CW Classic: the 1987 Giro d'Italia
2008 Giro d'Italia archive
Giro d'Italia 2008 coverage index - race reports, photos, results
From rule Britannia to cruel Britannia
Giro 2008: The final word on this year's race
Brits at the 2008 Giro: photo special
Five days to go, what's in store?
Giro d'Italia 2008: Rest day review (May 27)
Giro d'Italia 2008: Rest day review (May 19)
Giro d'Italia 2008 preview
Follow Cycling Weekly on Twitter>>
Christian Vande Velde?s Giro d?Italia ended 50km from the end the stage to Valdobbiadene on Monday, when he crashed at speed on a descent.
The Garmin-Slipstream team leader fell with team mate David Zabriskie. Zabriskie got up and finished the stage but Vande Velde was taken to hospital and diagnosed with two broken ribs, severe contusion and sprain to his mid back, a blow to his hip and a series of cuts and bruises.
He will return to his home in Gerona Spain as soon as possible for further treatment but for now he should be okay for July?s Tour de France.
Vande Velde was fifth in last year's Tour, and was hoping to use the Giro to find some early condition before making a serious bid for the 2009 edition of the Tour.
ARMSTRONG AVOIDS THE CARNAGE
Lance Armstrong avoided the crashes in the finale of the stage to Valdobbiadene by fighting for position near the front of the peloton.
After the stage he posted on his Twitter feed: ?Done with St 3. Another crazy/fast day. These boys ain't playin'. Crowds were amazing and very enthusiastic. Mtn's start tomorrow.?
?I just tried to stay out of trouble again,? Armstrong said after the finish.
?We had another dangerous circuit. The best place to be is in the front if you can, avoid the crashes, avoid the things we saw today. I heard a couple but missed them all, thank goodness.?
"In less then a second your career can change, your life can change. I mean I've seen all examples. I've seen somebody die. I've seen somebody lose a career and I've seen somebody lose a season," Armstrong continued.
"The bike races are going faster now with the surfaces of the roads, the equipment, the way that the wheels roll now. I think we have to evaluate in the future how we do the finales with 200 fit guys and fast bikes. It's hard.?
SWIFT CAUGHT BEHIND CRASH
Britain?s Ben Swift was hoping to fight out the finish in Valdobbiadene after his impressive third place behind Petacchi and Cavendish in Trieste.
The slightly uphill finish suit him and his coach Rod Ellingworth had advised him to start his sprint early to surprise the other sprinters.
Unfortunately, it wasn?t too be. Swift was caught behind the crash that blocked Cavendish and finished 138th at 2-50.