Vincenzo Nibali will avoid heavy race schedule in 2015
Italian Tour de France champion Vincenzo Nibali says he wants to spend more time with his family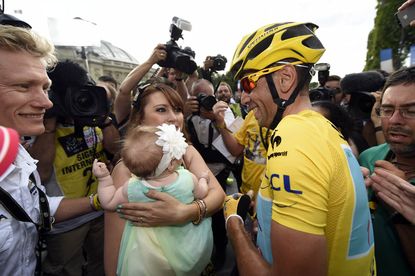 (Image credit: Watson)
Italian Vincenzo Nibali will avoid a heavy 2015 schedule and spend time with his family to minimise the risk of burning out after his 2014 Tour de France win.
"We are aware that when we talk about the Giro d'Italia and Tour de France, he says that he does not want to make all the sacrifices away from home and his family," team Astana's coach, Paolo Slongo told Cycling Weekly.
"What Bradley Wiggins said is true: the big races require concentrating and take energy and time away from your family. The Tour already requires three to four months of training, specific training."
A year after his 2012 Tour win, Wiggins said that the sacrifices on his family were too much to take to win another Grand Tour.
"If I'm honest I don't think I'm prepared to make those sacrifices again that I made last year," Wiggins told The Guardian.
"I didn't go to the altitude camp before the [2013] Giro because I wanted to be with my family; the kids are getting older and I like watching [my son] Ben play rugby and other things."
Nibali and his wife Rachele welcomed their first child, Emma, in February. Nibali was away for the Tour de San Luis, the Dubai Tour and the Tour of Oman beforehand, and left soon after for the GP Camaiore and Paris-Nice. After winning the Tour in July, his obligations increased.
"Now," said 30-year-old Nibali, "there are so many more requests for my time."
Slongo and Astana are tailoring Nibali's schedule towards the Tour, likely skipping the Giro, to minimize time away from his family and to keep him motivated to win for a second consecutive year.
"We might start a little later than last year, spend less energy. We can see him competitive in the Tour of Oman and Tirreno-Adriatico, then pull back after the Ardennes and skip the Tour de Romandie," added Slongo.
"It could be a risk that he won't stay concentrated to do it over again, but he has a great ability to do what he needs to, to give it all to the bicycle, but also to unplug afterwards and forget everything. That can be to his advantage."
Astana trained in Calpe, Spain this month. Nibali will return with the Kazakh team in January and head to Tenerife to train at altitude when the season starts. Though he has to spend chunks of time away from home, he will not be alone as he plans to take along his wife and daughter.
"As long as he keeps that hunger and desire, he'll be fine," added Slongo. "When he gets on the bike, he likes it. He seems like a little boy at times, racing and attacking, joking and having fun. That's going to make the difference."
Thank you for reading 20 articles this month* Join now for unlimited access
Enjoy your first month for just £1 / $1 / €1
*Read 5 free articles per month without a subscription
Join now for unlimited access
Try first month for just £1 / $1 / €1