Volvo hands out glow-in-the-dark spray to London cyclists (video)
2,000 cans of Volvo LifePaint available to pick up for free in London bike shops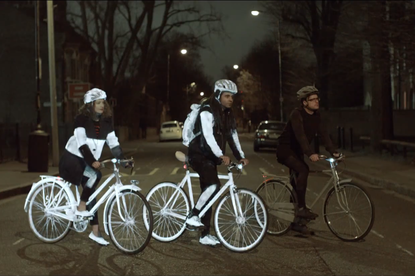 High-vis clothing certainly has its uses to help keep you seen on the road at night, however, let's face it, it's not the most stylish thing to be wearing, especially during the day.
>>>Jaguar's Bike Sense technology will 'tap drivers on the shoulder' to alert of danger (video)
With this in mind, Volvo has developed LifePaint, a glow-in-the-dark spray that can be applied to bikes, clothing and equipment, glowing brightly under the glare of car headlights, but being completely invisible during the day.
https://www.youtube.com/watch?v=CfWzeGlaFvI
This isn't the first time Volvo has attempted to improve cyclists' safety, having previously teamed up with POC to create a system that uses GPS data to tell cyclists and drivers when they are on a collision course.
A bit less high tech, the LifePaint spray can be used on any material without affecting its colour of texture, and will last for approximately one week after application (although can also be washed off in the meantime).
Eight bike shops in London and one in Kent are involved in the scheme, with cyclists being encouraged to head along to collect one of 2,000 cans. If this trial proves popular, Volvo says it will look into making the LifePaint available on a national scale.
For more details visit the Volvo website.
Thank you for reading 20 articles this month* Join now for unlimited access
Enjoy your first month for just £1 / $1 / €1
*Read 5 free articles per month without a subscription
Join now for unlimited access
Try first month for just £1 / $1 / €1