VOS WINS FLECHE WALLONNE, POOLEY SIXTH, COOKE EIGHTH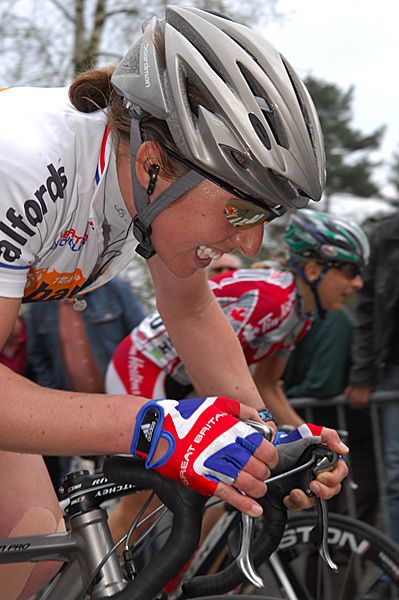 Dutch rider Marianne Vos has won Fleche Wallonne for the second year running after an explosive battle on the Mur de Huy.
Vos proved the strongest after a group of around 25 riders reached the bottom of the final climb together.
Three British riders made the vital split but couldn't get the better of Vos. World champion Marta Bastianelli of Italy was runner-up and Germany's Judith Arndt was third.
Nicole Cooke (main picture) finished eighth after trying to escape on the Cote de Ahin, the penultimate climb, and then attacking again with 500m to go on the Mur. "It would have been the right move had I had the legs to win it," Cooke said afterwards.
Cooke, who has won this race three times before attacked the bunch three times on the Cote de Ahin, but with around 10km to go to the finish over the top of that climb, other riders weren't as confident, "Cantele and Bastianelli were strong enough to follow, but they weren't contributing to it," an obviously disappointed Cooke explained. "There was three of us but with only me wanting it and putting the work in, it wasn't going to succeed."
As the leaders approached the Mur de Huy, team manager Julian Winn was instructing Emma Pooley to attack the field from the bottom, in order to set Cooke up for the win, but the tactic didn't pay off this time.
"I was trying to keep the pace high so she could sit on my wheel and then come past for the win," Pooley explained. "But I probably couldn't keep the pace high enough really, and a few people came past."
Pooley then clawed her way back up the climb to finish in sixth position, but wasn't entirely happy with her own ride. "I was annoyed with my own riding in some ways. My bunch positioning is my biggest problem and I don't feel it was very good today either. It was hard, but we rode a good team race, we still had three in the front group at the end. I think we rode pretty well together."
Halfords' newest recruit Sharon Laws rode strongly in her first World Cup race. She too made the final selection and finished 31st, a minute back.
"It was probably the hardest race I've ever done, and I was pretty spent by the end of this climb, so I'd worked as hard as I could during the race." Laws said.
It was Laws's first ever world cup, and, she calculated only her 15 ever road race, "I've got a lot to learn, but I'm with one of the best teams I think."
The other two British riders, Jessica Allen and Catherine Hare, finished but were among 46 riders who were outside the time limit.
Swipe to scroll horizontally
Women's Fleche Wallonne results
1 Marianne Vos (Netherlands) Team DSB 103.5km in 2hr 46min 42sec
2 Marta Bastianelli (Italy) at 1sec
3 Judith Arndt (Germany) at 2sec
4 Alex Wrubluski (Canada) at 9sec
5 Amber Neben (Netherlands) Flexpoint at 13sec
6 Emma Pooley (Great Britain) at 17sec
7 Nicole Brandli (Canada)
8 Nicole Cooke (Great Britain) both same time
9 Sofie Goor (Belgium) at 20sec
10 Lieselot Decroix (Belgium) at 22sec
31 Sharon Laws (Great Britain) at 1-02
Outside time limit
101 Jessica Allen (Great Britain) at 10-43
105 Catherine Hare (Great Britain) at 10-52
Emma Pooley
Nicole Cooke
Catherine Hare
Jessica Allen
Sharon Laws. All photos by Andy Jones
WOMEN'S WORLD CUP
Round 1: 24/02 Geelong, Australia results
Round 2: 24/03 Trofeo Alfredo Binda, Italy results
Round 3: 06/04 Tour of Flanders, Belgium results
Round 4: 12/04 Ronde Van Drenthe, Netherlands results
Round 5: 24/04 La Fleche Wallonne Feminine, Belgium
Round 6: 04/05 Tour de Berne, Switzerland
Round 7: 31/05 La Coupe du Monde Feminine de Montreal, Canada
Round 8: 30/07Open de Suede Vargarda, Sweden
Round 9: 01/08 Open de Suede Vargarda TTT, Sweden
Round 10: 24/08 GP de Plouay-Bretagne, France
RELATED LINKS
Women's Fleche Wallonne Preview
Pooley's the fastest climber in the world, says Winn
Men's Fleche Wallonne Preview
Kim Kirchen wins Fleche Wallonne
Thank you for reading 20 articles this month* Join now for unlimited access
Enjoy your first month for just £1 / $1 / €1
*Read 5 free articles per month without a subscription
Join now for unlimited access
Try first month for just £1 / $1 / €1