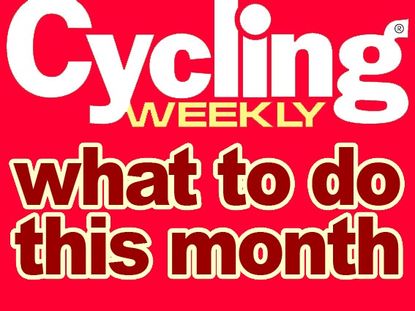 What's on in November? Want to make plans for the month? Here's our handy guide of what's on and when.
NOVEMBER 2009
Watch this... Manchester World Cup

Sunday, November 1
Tickets for the opening World Cup of the new track season are sold out, but you can watch the final day's action live on BBC 2 on Sunday afternoon. Coverage is on the red button and online for the rest of the weekend. The velodrome will be packed, the big names, such as Sir Chris Hoy, Victoria Pendleton and Geraint Thomas, will be in action. And the challenge from the rest of the world is likely to be strong. Don't forget to keep up with all the news on www.cyclingweekly.com
Website: CW's Manchester World Cup preview
Attend this... The Dave Rayner Dinner

Saturday, November 14 Harrogate
Support the efforts of young British and Irish riders trying to make it on the continent, and have a very nice evening while you're doing it. The annual dinner in aid of the Dave Rayner Fund will be held at the Majestic Hotel in Harrogate, Yorkshire. Tickets are £42. Bradley Wiggins and Team Sky's new recruit Russell Downing will be among the guests. Call Bill Holmes on 01706 377069 for tickets.
Website: Dave Rayner Fund


Race this... cyclo-cross

All month All over the place

There's a packed calendar of cyclo-cross racing this month, with accessible events wherever you are in the country. The CW office has been bitten by the cyclo-cross bug, of late, and early season events have attracted bumper fields. Check out the British Cycling event calendar and plan your schedule.
Website: British Cycling calendar: November cyclo-cross


Ride this... Evans Ride-It

November 21-22 Biggin Hill, North Downs
The sportive season may have wound down, but there are still some organised rides to keep you motivated. The Evans Ride-It series heads to the North Downs with an off-road ride on Saturday, November 21 and a road sportive the following day. Choose from the 15, 25 and 30-mile off-road rides and rides ranging from 12 to 65 miles on the road.
Website: Evans Ride-It calendar
Travel here... The Ghent Six and Koksijde World Cup cyclo-cross

November 24-29 Belgium
The best weekend of the winter, without a shadow of a doubt. Head over to Belgium and watch a night or two of the action in Ghent's famous t'Kuipke velodrome. It's compact, with a 166-metre track and impossibly steep banking. The atmosphere is fantastic, the beer and hot dogs cheap, the racing brilliant. Then on Saturday afternoon drive out to Koksijde for the cyclo-cross. Make sure you get there early enough to watch Britain's Helen Wyman in the women's race. The course is next to a Belgian army base and is characterised by its sand dunes. It's a great weekend. Take your bike, too, and hit the hills near Oudenaarde if the weather is nice. Oh, and make sure you have a Leffe beer.
Tickets for the Ghent Six range from €16 for the track centre to €30 for seats in the stand near the finish line. We advise buying in advance, particularly for Friday and Saturday nights. Details are on the Ghent Six website. When you call, they will be able to speak English. Tickets for the Koksijde Cross can be bought on the day for €15.
Website: Koksijde Cyclo-Cross website
Read this... Lance & Le Tour
Available now from Cycling Weekly's online shop
Cycling Weekly's Matt Lamy has interviewed those closest to Lance Armstrong in order to tell the story of the American's career and comeback to the Tour de France. This book offers a revealing insight into what makes Armstrong tick from those who know him best.
Website: Read an extract from the book
Ride this... turbo session
In the comfort of your own home
It's autumn, turning into winter. It gets dark early. It's cold and damp. But that need not stop you training. You can do a meaningful session in the comfort of your own home (or garage) on a turbo trainer. After a good warm-up, at least 10 minutes, sprint full out in a big-ish gear for 30 seconds, then ride steady for four-and-a-half minutes before another 30-second sprint interval. Do at least three sprint reps, preferably five, but no more than eight, then warm down. Your work is done.
Watch this... Giro d'Italia and Tour de France 2009 DVDs
While you're on the turbo you might want to be inspired by the races of the summer. Position the turbo in front of the TV and your session will fly by. Sort of.
Website: Buy the DVDs here
Thank you for reading 10 articles this month* Join now for unlimited access
Enjoy your first month for just £1 / $1 / €1
*Read 5 free articles per month without a subscription
Join now for unlimited access
Try first month for just £1 / $1 / €1
Sports journalist Lionel Birnie has written professionally for Sunday Times, Procycling and of course Cycling Weekly. He is also an author, publisher, and co-founder of The Cycling Podcast. His first experience covering the Tour de France came in 1999, and he has presented The Cycling Podcast with Richard Moore and Daniel Friebe since 2013. He founded Peloton Publishing in 2010 and has ghostwritten and published the autobiography of Sean Kelly, as well as a number of other sports icons.