WIGGINS AND CAV TEAM-UP FOR WORLD CUP MADISONS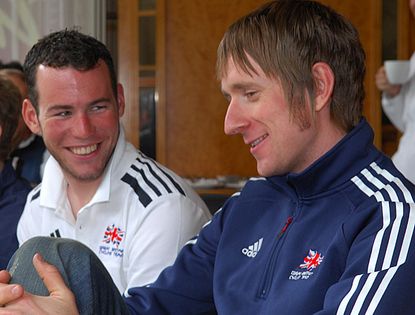 Bradley Wiggins and Mark Cavendish will fly to Australia after this week's Ghent Six-Day to ride the Madison at the Sydney and Beijing World Cup meetings.
The decision to send the pair is to ensure there are no slip-ups as Great Britain bid to qualify for a place in the Madison at next year's Olympic Games, to be held in Beijing, China.
Speaking at tonight's [Saturday, November 17] Revolution event in Manchester, Wiggins said: "There are three of us in with a shout for the Madison, myself, Cav and Rob Hayles but Mark and I have never ridden together before so it's a chance to get some experience together. It's by no means certain we're going to be the pair for the Olympics but we're the ones who have to try to qualify for a place as early as we can.
"Qualification is quite tight for the Madison so we're going to ride Sydney and Beijing to try to get the job done."
The Sydney World Cup (November 30-December 2) has been added to Wiggins' schedule but he had always planned to go to Beijing (December 7-9) to check out the track.
Wiggins will ride the Madison and the team pursuit in Sydney and the Madison and the invidual pursuit in Beijing.
"I'm looking forward to getting to Beijing and familiarising myself with the track, the velodrome and the whole place," he added.
GHENT SIX
Before that, though, he will ride with Cavendish at the Ghent Six-Day in Belgium, an event that is close to his heart as it takes place in the city of his birth. Wiggins won it with Matthew Gilmore in 2003.
"It's a special event but I've won it before so it's not the same goal it was," he said. "We're riding it because it's a great chance for me and Mark to get thrown in the deep end together. We'll try to keep ourselves in with a shout but the first priority has to be to keep out of trouble. It can be quite dangerous as we saw with the tragic accident last year." Spaniard Isaac Galvez died in a crash, leading to the cancellation of the race.
Wiggins believes he and Cavendish are an ideal partnership. "He's a former Madison world champion so he knows what it's all about. He's a roadman sprinter and he has got that tremendous speed, while I've got the staying power. Mark had his break a little later than me so we're on different levels so it'll be difficult but I think we'll get better as the week goes on."
T-MOBILE'S FUTURE
While his track season gets into full swing, Wiggins is unconcerned by rumours surrounding the future of his new T-Mobile team.
"I've read the speculation on the internet but haven't heard anything else. I met the big boss three weeks ago and he was incredibly enthusiastic then. I can't see much changing in three weeks - although in cycling you never know. I will wait and see but I am not picking up anything that makes me feel too worried."
Bradley Wiggins in action at Revolution 18 on Saturday. Photo by Andy Jones.
RELATED LINKS
Full gallery of photos from Revolution 18, Saturday November 17 2007
Thank you for reading 20 articles this month* Join now for unlimited access
Enjoy your first month for just £1 / $1 / €1
*Read 5 free articles per month without a subscription
Join now for unlimited access
Try first month for just £1 / $1 / €1