WIGGINS AND MILLAR UNHAPPY WITH CALIFORNIA PROLOGUE RIDES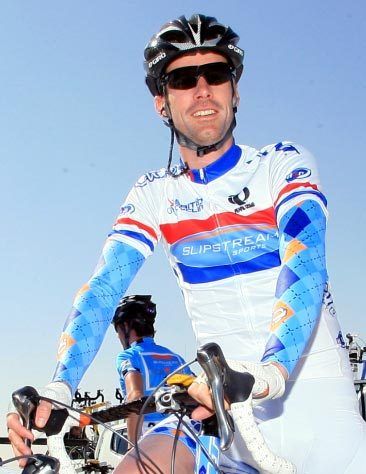 British riders Bradley Wiggins (High Road) and David Millar (Slipstream) both admitted it is very difficult to beat Fabian Cancellara in a short and flat prologue time trial but both were unhappy with their rides in the Tour of California prologue in Palo Alto.
Wiggins was second, 4.77 seconds behind Cancellara, while Millar was ninth at 8.57.
?We all know Cancellara is a phenomenal and is the best in the world. I didn?t think I?d beat him but I?m angry that I didn?t put more time in to the sprinters in the race,? Wiggins said.
?I had a bad ride. I felt alright but it wasn?t long enough for me. It was over before I got going and had more to give. I also miss judged the top bit but it was already over by then. I felt I was on it but misjudged the effort.?
Swipe to scroll horizontally
David Millar was stunned to be so far off the pace and could not find a rational explanation immediately after his ride.
?It?s a bit disappointing. I felt great. I don?t know where I lost it and perhaps I didn?t go hard enough at the beginning. It?s the only thing I can think of it,? he said.
?I didn?t pedal round the top turn but that didn?t make the difference. it?s not where I lose nine seconds.?
?I?m disappointed because I?m pleased with how I?m feeling. I think I?m strong enough to ride for overall that?s the plan.?
Swipe to scroll horizontally
CAVENDISH SURPRISED AND SATISFIED
Mark Cavendish was surprised to beat Millar and admitted he could have done even better.
?I?m satisfied with that. It?s kicked off pretty well and if I can get a time bonus or something it?d be perfect. I messed up the corners a little bit. You can go flat out but I bottled it a bit.?
Swipe to scroll horizontally
Mario Cipollini was only 44th, 17 seconds slower than winner Cancellara on his return to racing but he seemed to be happy just to be racing again.
?It was a great to comeback I haven?t raced hard like that for three years. It was very special to race in America because the people cheered my name it. I?ve raced in Atlanta and the Tour of Georgia and so I know they like me,? Cipollini said.
?It was more about the emotions of the moment than my actually level of fitness and the result. Tomorrow (Monday) is a very different matter. When you ride a short time trial, you don?t really feel the race but in a road stage I?ll really feel what it?s like to be back racing.?
?We?ll see what happens during the stage. I still feel like a spectator or an ex-rider but we?ll see what happens when I get back in the bunch. I don?t think the other riders should be scared of me.
RELATED LINKS
Tour of California, video highlights: Prologue
Tour of California, prologue: report and results
Tour of California: preview
Thank you for reading 20 articles this month* Join now for unlimited access
Enjoy your first month for just £1 / $1 / €1
*Read 5 free articles per month without a subscription
Join now for unlimited access
Try first month for just £1 / $1 / €1