Wiggins out to slay Spartacus in worlds TT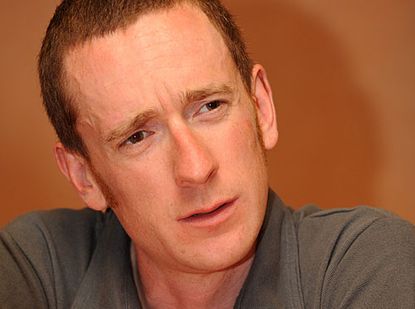 Bradley Wiggins has carefully studied the Mendrisio time trial course and is ready to try and stop Fabian Cancellara winning a third world title at home in Switzerland. He is confident he has the form to slay Spartacus after winning the British national time trial championships and then polishing his form at the Tour of Britain.
"I'm pretty confident. I've not been too far off this year in my predictions about what I'm capable of doing," he said as the hours tick down to his 3:40 pm (local time) start time.
"In the past I've been way off but this year I've been pretty sure about what I can do. I'd put myself down for a medal with an outside chance of winning it."
"I don't mind admitting that Fabian Cancellara on form in Switzerland on a good day is unbeatable. He's the world's best time trialist on a course like that if he's on top form. But he is beatable at times if he has an off day, and he has said that the road race will be his priority here."
"Going by what I've done in training, how it went in the Tour of Britain and the numbers I produced at the national time trial championship I'm certainly on for a medal without a doubt."
A real tester's course
Wiggins traveled to Mendrisio on Monday and studied the course in detail on Tuesday during training. He likes it.
"It's a great course for me, a real tester's course, rolling, open roads, sweeping bends and no technical sections whatsoever," he explained.
"There are no tricky descents where I could lose buckets of time to someone like Fabian Cancellara. It's a classic World's course."
Wiggins has stayed focused and fit since his breakthrough fourth place in the Tour de France in July. He rode the Eneco Tour in August and the recent Tour of Britain but was always thinking about an end of season shot at the time trial.
In the past Wiggins has finished seventh in Madrid in 2005 and 10th in Stuttgart in 2006 but he is a different rider after this year's Tour de France.
"Perhaps it's because I'm getting older but since the Tour I've really enjoyed riding my bike, using the form I've got," he said.
"I've got a history of stopping and losing form after a big event so I thought I'd carry on to the world's. I was close to having enough but the time trial project kept me riding my bike. It's been good having a goal."
"The training is different, more short, more intense, mentally it's not as demanding as building for a seven-hour road race. So it's been a change of direction. The nationals was a stepping stone - I really wanted to win it so I could take the jersey to the Tour next year."
No road race as thoughts turn to the 2010 Tour de France
Wiggins will not ride the road race on Sunday but his season does not end in Mendrisio. At the end of the month he will travel to Australia for the Sun Tour stage race.
He is already thinking about 2010 when he will again target the Tour de France.
"I pulled out of the road race so I wouldn't be spreading myself around mentally with more than one goal," he explained.
"I thought of riding it but it scared me a bit, it wasn't a case of 'let me at it'. There are nine spots, a lot of guys going for the spots and the only reason I'd have gone was to do a good job for David Millar. I talked to him and he said it wasn't a race to go into half-heartedly, and he'd need me to be there in the last two laps. I'm sure there are other guys who can do a better job, and I don't know about backing up two days after the time trial."
"I'm riding the Sun Tour because it'll give me a bit extra at the end of the year. I'll keep me riding until mid-October. I'll take November off, keep active on the bike and in the gym but no training as such, then I'll get into structured training in December, build up in January in Majorca as before, and at this stage I'm looking at starting Tirreno-Adriatico with a view to peaking more in July."
"I'll recon the route in April, and build through the Giro because it's the best environment to get the work done for the Tour. I think I can be in the same or better shape next year, but I can be better prepared going into the race, with the team backing me knowing what I've done. This year was the unknown for me, and no one knew what I was capable of doing."
Thank you for reading 20 articles this month* Join now for unlimited access
Enjoy your first month for just £1 / $1 / €1
*Read 5 free articles per month without a subscription
Join now for unlimited access
Try first month for just £1 / $1 / €1