Wiggle-Honda sign Kathryn Bertine ahead of La Course by Tour de France race
Co-founder of Le Tour Entier campaign group joins leading British team ahead of inaugural edition of iconic Parisien event.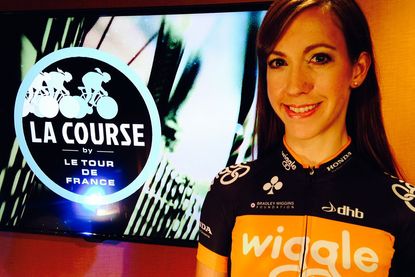 Wiggle-Honda have today confirmed the signing of Saint Kitts and Nevis rider Kathryn Bertine, with team manager Rochelle Gilmore saying it "wouldn't be right" for her not to compete in La Course by Tour de France race.
Bertine is a co-founder of Le Tour Entier, which petitioned Tour de France organiser ASO to create an equivalent race for women.
La Course - a one-day, criterium around the iconic Champs-Élysées circuit that ends the Tour - was the ASO's solution to the near 100,000 signatures who petitioned for an event. It will take place on July 27th, just hours before the men race around the French capital.
"Kathryn was instrumental in creating the La Course race," said Wiggle Honda's owner and manager, Rochelle Gilmore.
"La Course is one of 2014's most important races in shifting the sport to where it deserves to be and we're delighted to make her dream of racing it come true."
Thirty-nine-year-old Bertine, who is a former Saint Kitts and Nevis national champion, will make her debut for the team in the race.
Thank you for reading 20 articles this month* Join now for unlimited access
Enjoy your first month for just £1 / $1 / €1
*Read 5 free articles per month without a subscription
Join now for unlimited access
Try first month for just £1 / $1 / €1