Wilkinson flies to Otley crit win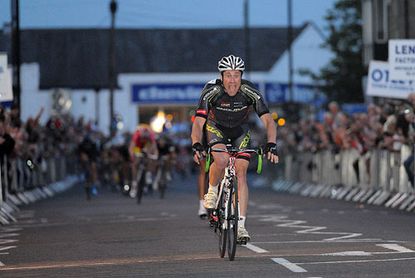 'Superman' Ian Wilkinson flew around the streets of Otley to take the Subaru Insurance Elite Circuit race on Wednesday evening, round two of the seven round National Elite Circuit Series.
The Endura rider, who had placed several times on the Otley podium in previous years, finally took a deserved top step by beating Kristian House (Rapha Condor Sharp) in a thrilling two up dash to the line. Dan McLay (Hargroves Cycles) took the bunch gallop behind.
Large crowds lined the 1.5-mile town circuit to watch the evening's programme of events in what was the 25th edition of the Otley Town Centre Races. They were bolstered by the many football fans that were out celebrating England's win in the World Cup earlier in the afternoon.
The 30 lap Subaru Insurance Elite Circuit Race was missing last year's winner Jeremy Hunt (Cervelo Test Team) but did see Ben Swift (Team Sky) and Adam Blythe (Omega Pharma Lotto) back from their continental programmes to test their legs before Sunday's National Championship road race in Barley, Lancashire.
The early race pace was frantic from the start on this ever-popular circuit and Blythe was an early casualty after taking a fall. He briefly managed to recover from the incident after returning to the pits to take a front wheel and a lap out. However, the damage sustained to his bike which included a damaged gear mech and cracked chain stay meant he had to retire for the evening.
An early break of four riders that included Matt Cronshaw(Rapha Condor Sharp), Pete Williams (Motorpoint Marshalls Pasta), Dan McLay (Hargroves Cycles) and Ian Wilkinson (Endura) was soon reeled back before a nine man break tried their luck and included amongst others Dan Craven and Graham Briggs (Rapha Condor Sharp), Steven Burke (Motorpoint Marshalls Pasta), James McCallum (Endura) and Ben Swift (Team Sky).
However, as night descended on the race things were more or less back together and produced a thrilling finale for the final few laps. Brief attacks went off the front that included John Tanner (Team Sportscover) and David Lines (Endura) but it was Kristian House (Rapha Condor Sharp) and Ian Wilkinson that made the winning move with three laps to go.
The duo came out of the gloom in to the home straight, tight on the barriers from the fast final corner, with Wilkinson just in front. Wilkinson was able to power home his advantage to take his second series win after taking round one in Dumfries back in May.
"Awesome" was Wilkinson's reaction afterwards. "Three laps to go - we were riding for Jimmy (James McCallum) tonight in theory, bearing in mind tomorrow night (Tour Series, Woking) as well.
"So, with three laps to go I said to Jimmy, I'll launch a bit of a tentative attack with then having two to go and get either Rapha or Motorpoint to chase. As it was we came through and Kristian and me and two Metaltek riders got a gap, so I went over the top and got a gap and Kristian went with me and that was it with two to go.
"We were going really hard, then going easy and having a look and that last lap Kristian attacked three times.
Pete Williams (Motorpoint Marshalls Pasta) got across up on the top corner. Kristian then launched really hard - he's going really well. I just buried myself and got back on to him and Pete had just disappeared - he'd blown. Then Kristian went again and I just got back on to him again. There was no time then and I knew to get around the last corner first is pretty much a win, so on the 11 and I absolutely buried myself in to the last corner and just gave it everything. Blacked out - honestly but it was well worth it. Just a great race. Absolutely over the moon and the support here for me is fabulous."
"There are some awesome names on the trophy - Johnny Clay's, Walker's and Cavendish. I was on the podium when Cavendish won it. It was Cav, Russ (Downing) and me on the podium in the nationals when it was here, so that's not a bad photo for the gallery."
Earlier action in the evening had seen local girl Lizzie Armitstead (Cervelo Test Team) mix it in the Chevin Cycle Classic support race which was won by Stuart Reid (Herbalife Wheelbase).
Elite Circuit Race Series Round 2

1. Ian Wilkinson - Endura Racing
2. Kristian House - Rapha Condor Sharp
3. Daniel McLay - Hargroves Cycles
4. Graham Briggs - Rapha Condor Sharp
5. Steve Lumpier - Pendragon-LeCol-Colnago
6. Matt Crenshaw - Rapha Condor Sharp
7. Chris Siepen - Wills Wheels CC
8. Matt Kipling - MTS Cyclesport
9. Ben Swift - Team Sky
10. Jonny Knox - Herbalife/Wheelbase
Women
1. Lizzie Armitstead - Cervelo Test Team
Chevin Cycle Classic Race - Support race
1. Stuart Reid, Herbalife/Wheelbase
2. Shaun Tyson, Adept Precision
3. Chris Daddy, Star Bikes
Ben Swift
Ian Wilkinson wins
A crash-damaged Adam Blythe
Women's winner Lizzie Armitstead
Related links
British Race Calendar 2010
Thank you for reading 20 articles this month* Join now for unlimited access
Enjoy your first month for just £1 / $1 / €1
*Read 5 free articles per month without a subscription
Join now for unlimited access
Try first month for just £1 / $1 / €1