Leipheimer aiming for Tour de France podium after horror crash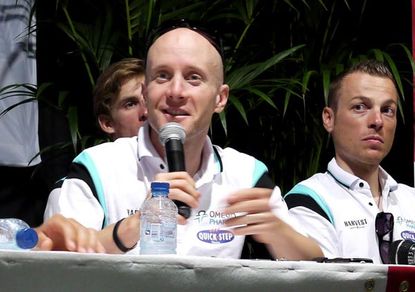 Levi Leipheimer (Omega Pharma-Quick Step) quietly enters this Tour de France after a season that included breaking his leg and being linked to Lance Armstrong's doping case. Despite it all, he's hoping for a second podium place and confident given his recent results in California and Switzerland.
Bradley Wiggins (Sky) and Cadel Evans (BMC Racing) have "both earned the title of the big five-star favourites, but that comes with a price of pressure and attention," Leipheimer said yesterday in a press conference. "I'm a dark horse, it's better to wait and wait and play off the favourites."
Leipheimer's shaved and bald head was most visible from the journalists' perspective in the seats lower down. It reminded viewers of the popular NY Velocity Toto comic, which only shows him from the nose up and Armstrong refers to as "bottle."
He spent four years helping Armstrong, including fetching bottles for him in the Tour de France. He may have delivered something more powerful in recent months, testimony that Armstrong doped between the years 1996 to 2010.
The United States Anti-Doping Agency (USADA) said it counts more than 10 riders have cooperated in its investigation against Armstrong. In its letter of formal action dated June 12, it said, "With the exception of Mr Armstrong, every other US rider contacted by the USADA regarding doping in cycling agreed to meet with the USADA and to truthfully and fully describe their involvement in doping and all doping by others of which they were aware."
Another formal team-mate, Floyd Landis helped kick off the initial Food and Drug Administration (FDA) federal investigation 2010. As part of Landis' allegations, he said that when Leipheimer rode as the classification leader with Gerolsteiner in 2005, he transfused his blood.
Leipheimer may have helped FDA's lawyers and recalled doping to the USADA. It appears so, in the week following the USADA's formal action, USA Cycling announced that he, Christian Vande Velde and David Zabriskie (both with team Garmin-Sharp) asked not to be considered for the Olympic Games. Vande Velde and Zabriskie are also rumoured to have cooperated.
He seemed happy to be in Liège for the Tour start yesterday notwithstanding the case. He's happy also because he fought back from being hit from behind by a car while training on April 1. It fractured his left leg's fibula and nearly forced him to write off the season. He's come back to place sixth in the Tour of California and third in the Tour of Suisse.
The Tour has "a lot of traps and pitfalls, you have to be careful to pass all those tests. There's over 100km of time trialling. We haven't had that in a few years. It's good for me," he explained. "I'm hoping to be on the podium. I'll take it day be day, and sometimes kilometre by kilometre. I try to keep relaxed as much as possible during all the drama."
Related links
Tour de France teams presented in Liege
Armstrong attacks USADA for opening formal action against him
Tour de France 2012 team presentation, full gallery
Millar misses Tour team presentation due to illness
Team Sky Tour de France recon photo special
Tour de France 2012: Coverage index
Thank you for reading 20 articles this month* Join now for unlimited access
Enjoy your first month for just £1 / $1 / €1
*Read 5 free articles per month without a subscription
Join now for unlimited access
Try first month for just £1 / $1 / €1