Leopard-Saxo Bank rivalry already hot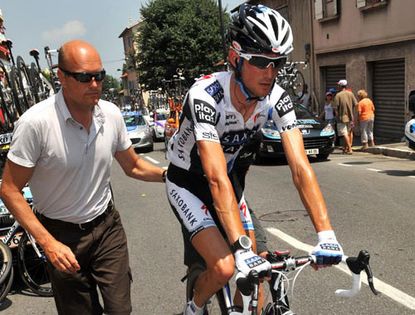 With one week before the season starts at the Tour Down Under, the rivalry between Bjarne Riis and his former employees is already red hot. There is good reason, nearly a quarter of Riis' Saxo Bank team jumped ship to join Leopard-Trek.
Riis' former key helpers, Brian Nygaard and Kim Andersen, led the exodus.
Nygaard and Andersen both quit their jobs in the middle of last year's season to build Leopard-Trek. Nygaard left Team Sky after the Giro d'Italia in May, but prior to joining the British squad in 2010 he had been the press officer for nine years at Riis's Saxo Bank/CSC. He accepted the general manger position at Leopard and Kim Andersen, Riis' sports director for seven years, became team manager.
Riis must have read the headlines on Thursday after Nygaard and Andersen presented their team and felt as though his house had been plundered. And, as all three managers are Danes, it is receiving big headlines at home.
"I have not stolen something from Bjarne," Andersen told Denmark's Ekstra Bladet. "I did not decide for the cyclists, they decided themselves."
During the years that Nygaard served with Saxo Bank and CSC, he became close with many of the riders he signed, including stars Andy Schleck, Fränk Schleck and Fabian Cancellara.
Sports editor of Denmark's BT newspaper, Flemming Fjeldgaard, praised Nygaard. He called Nygaard the "uncrowned king of bullshit" for his years of dealing with the fallout due to various doping scandals at Riis' team. "He could probably teach top companies in strategic communications."
The praised stopped, however, when Fjeldgaard wrote of the Leopard's creation.
"In my books, team Leopard-Trek starts the year at the absolute bottom of the ratings," said Fjeldgaard. "Their project is spun with all the same loyalty principles that they themselves preached during their years with Riis. They scrounged practically everything, except bikes, from Riis' team."
BT pointed out that at home fans still pay their loyalties to home team Saxo Bank-SunGard. In a poll of 4,000 readers as to which team they will follow, 88 per cent said Saxo Bank. It highlighted a reply by one of its readers, who said team Leopard-Trek should be called Team Judas.
Saxo Bank-SunGard may have won the popularity vote, but it may not get as many race wins. Riis' new Tour de France star, Alberto Contador faces a likely two-year doping suspension. He will now likely groom Australian Richie Porte as his new leader. As a neo-professional last year, Porte finished seventh and won the young riders competition at the Giro d'Italia.
Porte's season starts at the Tour Down Under on January 16 in Adelaide, Australia. It will be the first time for Saxo Bank and Leopard-Trek to go head to head.
Thank you for reading 20 articles this month* Join now for unlimited access
Enjoy your first month for just £1 / $1 / €1
*Read 5 free articles per month without a subscription
Join now for unlimited access
Try first month for just £1 / $1 / €1