Machete-wielding robber who wrestled bike from pro cyclist in London sentenced
Saint Piran rider says the incident made him "fear for his life" and he still fears riding on open roads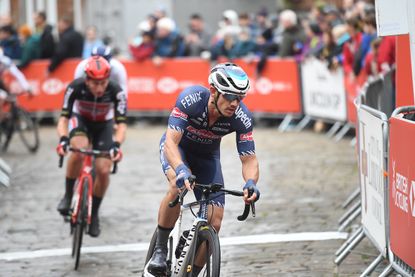 (Image credit: Simon Wilkinson / SWpix.com)
The robber who stole British pro-cyclist's bike at knife point in Richmond Park in London has been sentenced to six months in prison.
In October 2021, the robber, who was just 15-years-old at the time of the robbery followed Alex Richardson, who rode for Alpecin-Fenix at the time, on a moped after he finished training in Richmond Park, a popular riding spot for cyclists in South London.
He then dragged the bike away from Richardson as he held on leaving the British rider with injuries to his ribs, back, knees, ankles and arms before threatening him with a machete.
At that point Richardson, who now rides for British team Saint Piran, gave up the £15,000 Specialized S-Works bike he was riding.
There were then a spate of similar crimes in the area where cyclists were threatened for their bikes.
According to local news service My London, the defendant pleaded guilty to two counts of robbery and one count of attempted robbery and possession of stolen property last month. After appearing at Wimbledon Youth Court earlier this week, he has now been sentenced to six months in prison and further six months on licence.
He had been found with the machete on his person when he walked into a cafe where officers were eating. He had pictures of Richardson's custom-built bike on his phone that were taken moments after the robbery.
Richardson told My London: "This crime made me fear for my life; I thought I could be murdered at that moment and it continues to cause feelings of anxiety, stress, sleepless nights and a fear to my family's safety to the point we have hired overnight security at our property on more than one occasion.
"I have a huge fear of riding my bike now on open roads in the UK as this could happen again at any time.
"My children have also been affected, they have had disturbed sleep and are traumatised by what they saw in the evening with my physical injuries. No one should have to feel this way. I wouldn't want anyone to go through what I have."
Detective Constable Ian Croxford, added the defendant he had "no regard for the safety of the victims or the injuries he could cause" and it was "only by good fortune" that the injuries were not more serious.
He said: "All of the victims have spoken of the effect these robberies have had on their lives. No-one should have to change the way they behave because of the violent actions of others and we are pleased that this defendant has now been prosecuted."
Thank you for reading 20 articles this month* Join now for unlimited access
Enjoy your first month for just £1 / $1 / €1
*Read 5 free articles per month without a subscription
Join now for unlimited access
Try first month for just £1 / $1 / €1